Skip to Recipe
Tangy crunchy bread, rich pesto flavor and crisp fresh spinach delight the tastebuds in this Pesto Avocado Turkey Sandwich. Mid-day meals don't needs to be boring! Sandwiches are a family-favorite for lunch. This flavor-packed meal is the perfect sandwich to refuel you for a busy day. Hearty, filling and perfectly balanced, ideal for a mid-day meal! This is a combo sandwich, it's not completely cold and not completely hot. Just imagine making this sandwich with Sweet Coated Smoked Turkey leftovers!
The grocery-list:
Oven roasted turkey breast — we typically have maple roasted turkey, buffalo chicken and oven roasted turkey slices on rotation at our house. The oven roasted turkey breast is the perfect flavor for this sandwich.
Provolone cheese — this cheese a go-to for sandwiches, it's mild in flavor and melts perfectly into the nooks and crannies of whichever sandwich you're gobbling up. Feel free to swap out for your favorite cheese!
Sourdough bread — sourdough is a pantry staple for us but this sandwich would be great on white, wheat, oat, or multi-grain. The bread possibilities are endless. If you're looking for gluten-free bread options , I favor these when the store is out of sourdough bread.
Basil pesto — this simple ingredient takes this sandwich to a whole new level. Amp up the flavor with basil pesto, either homemade or store-bought.
Avocado — rich in flavor, creamy in texture and packed with nutrients, avocado makes the perfect addition to this flavor-packed lunch.
Spinach — a hearty lunch like this is balanced with fresh and crisp spinach.
Pesto Avocado Turkey Sandwich inspiration.
Ham and cheese. Peanut butter and jelly. Salami and mustard. These are the basic sandwich combinations I grew up with, sound familiar?? It's time to take the basic brown-bag lunch to the next level.
Here's how this all went down: I was peeling through the fridge looking to clean out expired jars of condiments. I found a near-empty jar of pesto creeping up towards it's expiration date. There wasn't enough pesto to make a family pasta dinner but I wasn't about to toss the coveted ingredient. Instead of showing the jar to the bin, I started to peel through the fridge finding ingredients that might pair well with it. Also working in our favor was a hungry stomach and the clock that read 1:15pm. I hadn't eaten anything since about 9am and those hunger cues and tastebuds were working together. I'm now restocking the pantry/fridge with this simple, yet flavorful, ingredient to keep these lunch-time sandwiches on rotation!
It's all about the sandwich add-ons.
A turkey sandwich doesn't need to be boring. This turkey sandwich is packed with flavor. It's crave-able for lunch! The pesto brings the flavor, the avocado brings creaminess and healthy fats, the spinach brings the crunch and additional micro-nutrients often lacking at lunch time. Put it all together between two slices of lightly toasted sourdough bread and you've got yourself a home-run hit!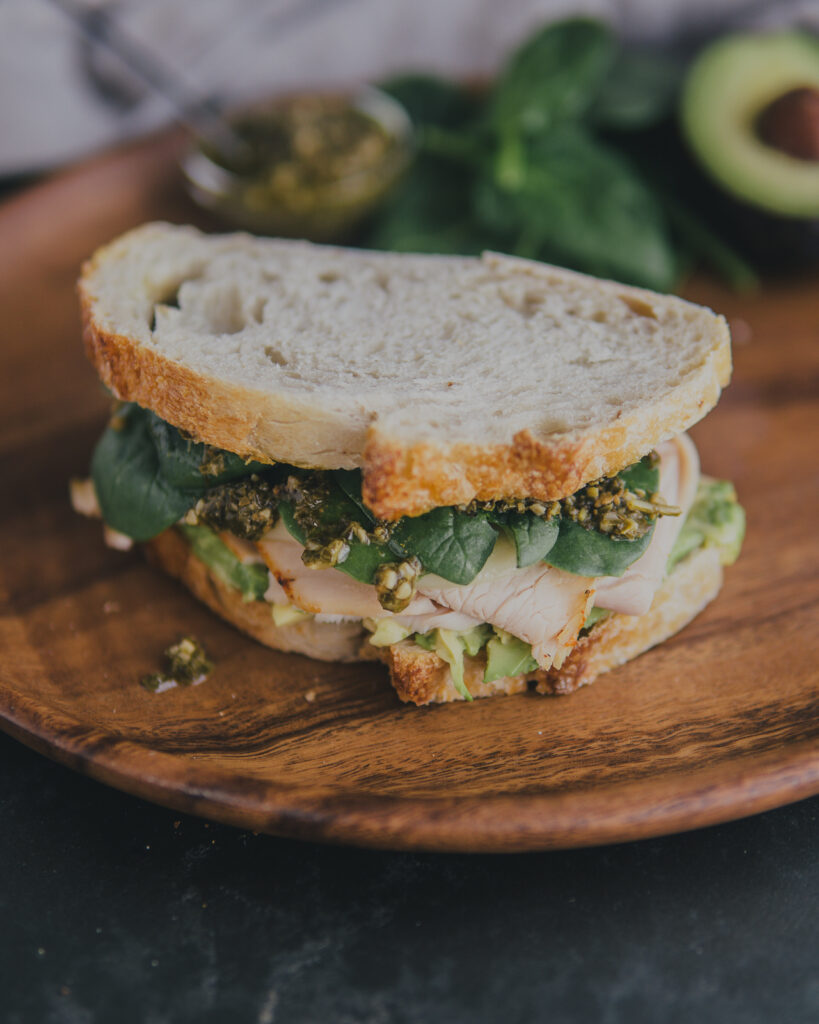 Looking for more sandwich/toast recipes?
Here are a few to try:
SOURDOUGH SPROUT CHICKEN SANDWICH
Lastly, if you make this Pesto Avocado Turkey Sandwich recipe, be sure to leave a comment! Above all, I love to hear from ya'll and do my best to respond to every comment. And of course, if you do make this recipe, don't forget to snap a pic and tag me on Instagram! Looking through the photos of your dayyyummm good recreations is my favorite!
This post contains affiliate links that will not change your price but will share some commission.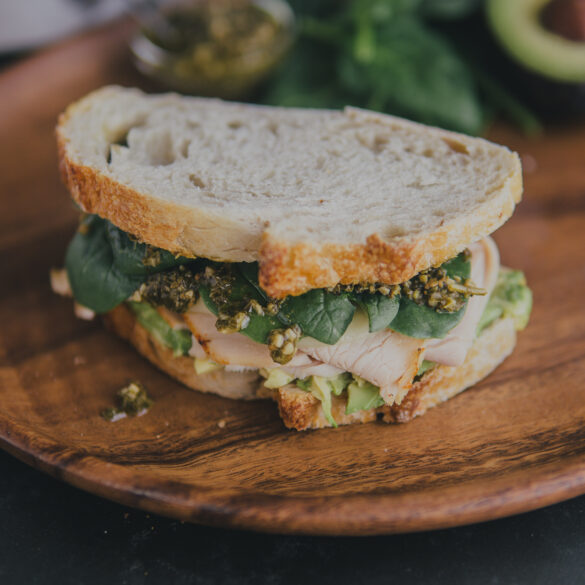 Ingredients
8 ounces oven roasted turkey breast
2 slices provolone cheese
4 slices sourdough bread
4 tablespoons homemade or store-bought basil pesto
1 ripe avocado
1/2 cup fresh spinach
Instructions
Set the oven to HIGH broil. Divide the turkey deli slices into two even stacks on a baking sheet. Place one slice of provolone onto each pile of turkey. Broil for 3 minutes until the cheese has melted. 
While the turkey and cheese are in the oven, toast the slices of sourdough.
Once the bread has toasted, spread two of the slices with pesto. To the other two, evenly divide the avocado and lightly mash.
Lay the turkey and cheese onto the slice of sourdough with avocado. Top the turkey and cheese with spinach and close the sandwich with pesto slice of sourdough.