Ya'll are lucky there are two of us in this family. If not, this Easy Cannoli Dip with Waffle Cones may not exist here! While I (Sammy) may be the one to bring these creations to life, Mat is the idea man. We had a version of this from a wholesale club a few months back and Mat was begging for it recently. Rather than head to the store I decided to make my own! I love to recreate store-bought items. Especially when it comes to sweets, I feel that much better about shoveling cannoli filling into my face when I've prepared it. Life is about balance. There is always room for treats. In our house, treats are exactly that; a treat. If we have them all the time they are just apart of our diet.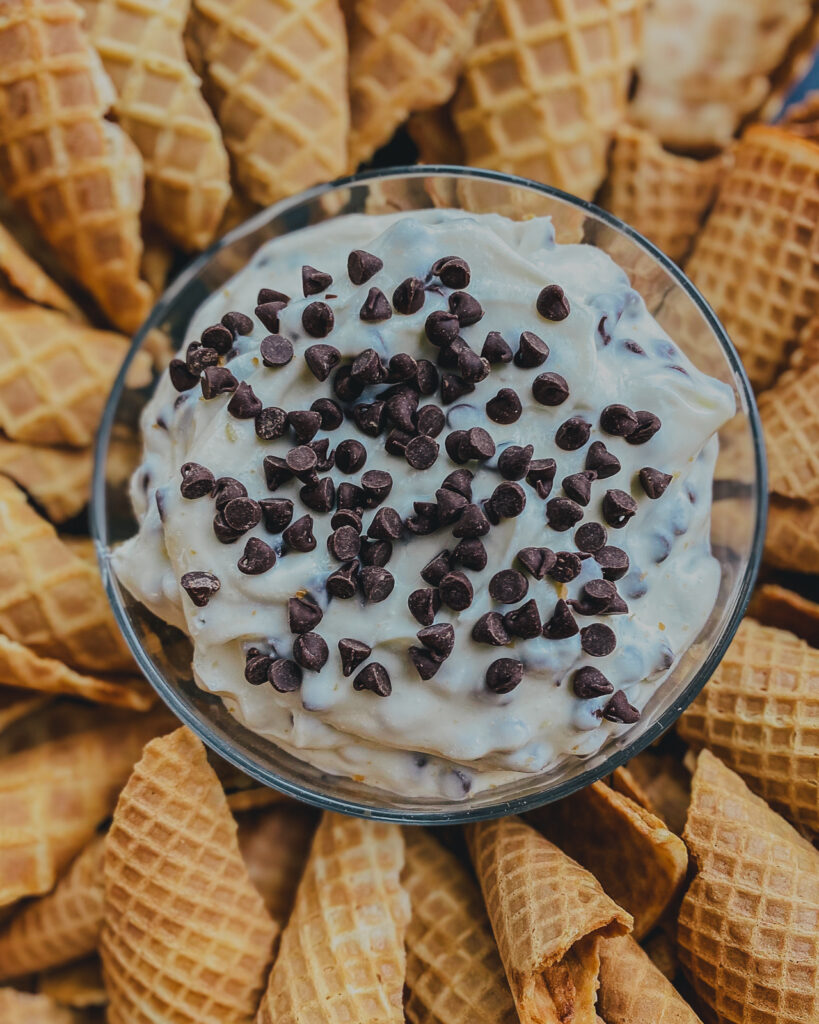 The details on this dip.
It's sweet and most definitely a dessert dip but it's not overly sweet. I'm not a crazy sweets person. Mat absolutely is. If I like it and don't find it too sweet then you know it's the perfect balance of sweet. This Easy Cannoli Dip with Waffle Cones recipe is smooth a crunchy. It keeps you going back for more. Dip, after dip, after dip. It's like a platter of chips and salsa, I can't stop eating it until the platter is gone. This Cannoli Dip was no different.
The basic steps.
This simply sweet dessert is not only right the right amount of "sweet" but it's SO simple to make you'll feel like a real pro. It all comes together in the food processor, what's better than that? No need to get a single-arm PUMP whipping it up. Just toss it in the bowl of a food processor and let modern technology and electricity do the work. Of course, if you don't have a food processor, you can absolutely make this dish but the blades help break down the ricotta making it super smooth. Whipping the ricotta takes away the grittiness.
Once the ricotta is whipped, add the room temperature cream cheese. It's important to make sure it's room temperature. If not, the cream cheese won't mix smoothly and will be clumpy in the dip. Next, add the powdered sugar and vanilla. Lastly, move everything to a serving dish and mix the mini chocolate chips. It's THAT simple!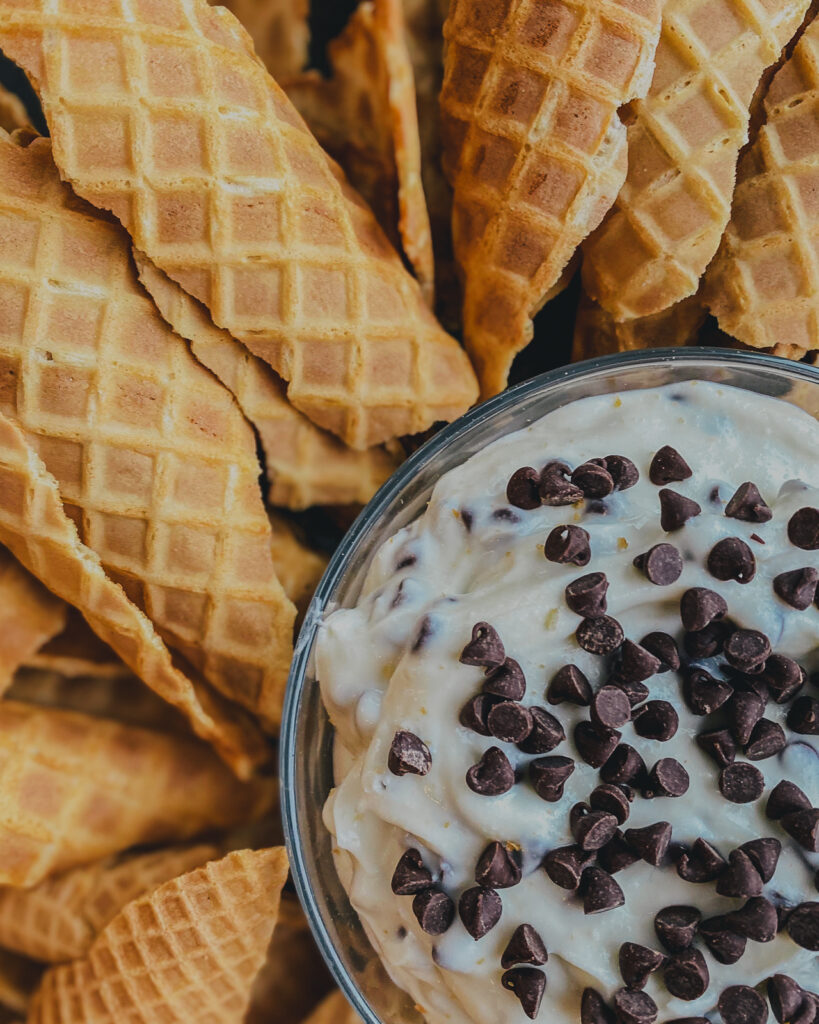 Looking for more sweet and simple treats?
Here are a few to try:
SHEET PAN POP TART WITH PUMPKIN BUTTER AND MAPLE BACON GLAZE
HAWAIIAN ROLL CINNYBONS W/ SWEET CREAM FROSTING
Lastly, if you make this Easy Cannoli Dip with Waffle Cones recipe, be sure to leave a comment and/or give this recipe a comment! Above all, I love to hear from ya'll and do my best to respond to every comment. And of course, if you do make this recipe, don't forget to snap a pic and tag me on Instagram! Looking through the photos of your dayyyummm good recreations is my favorite!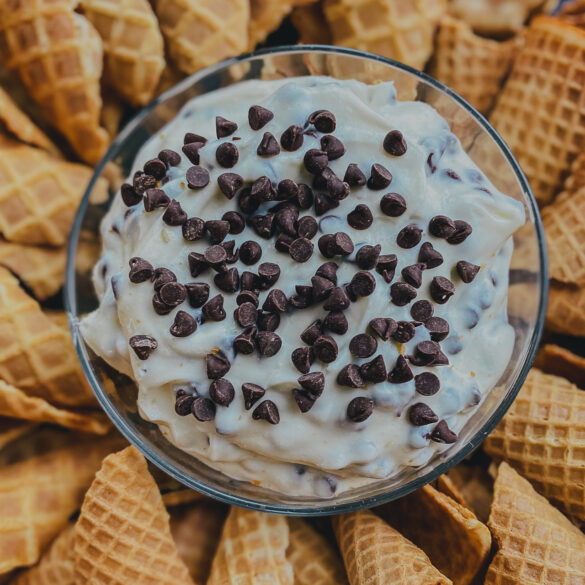 Ingredients
1 cup ricotta
1 (8 ounce) package cream cheese, room temperature
1 cup powdered sugar
1 teaspoon vanilla extract
1 cup mini chocolate chips
1 box waffle cones, broken into pieces 
Instructions
In the bowl of a food processor, add the ricotta. Blend for 1 minute until smooth.
Add the softened cream cheese to the bowl of the food processor and blend for an additional minute until smooth and whipped.
Add the powdered sugar and vanilla and blend for an additional 1 minute until smooth. 
Move mixture to a medium serving bowl, add all but 2 tablespoons oh chocolate chips and mix with a silicone spatula to combine. Top with the remaining chocolate chips.
Serve with broken pieces of waffle cones for dipping.
Notes
Nutrition Information: Serves 10 / 375 cals / 14g F / 56g C / 6g P