Skip to Recipe
Need something quick, nutritious and a little sweet to start the morning? These Banana Oatmeal Pancakes hit the high notes on all those marks. Time to transform a classic bowl of oats into sweet morning pancakes. Fold mashed bananas in with quick oats for easy breakfast pancakes. Top your short stack with fresh sliced bananas and a drizzle of maple syrup for a touch of sweetness.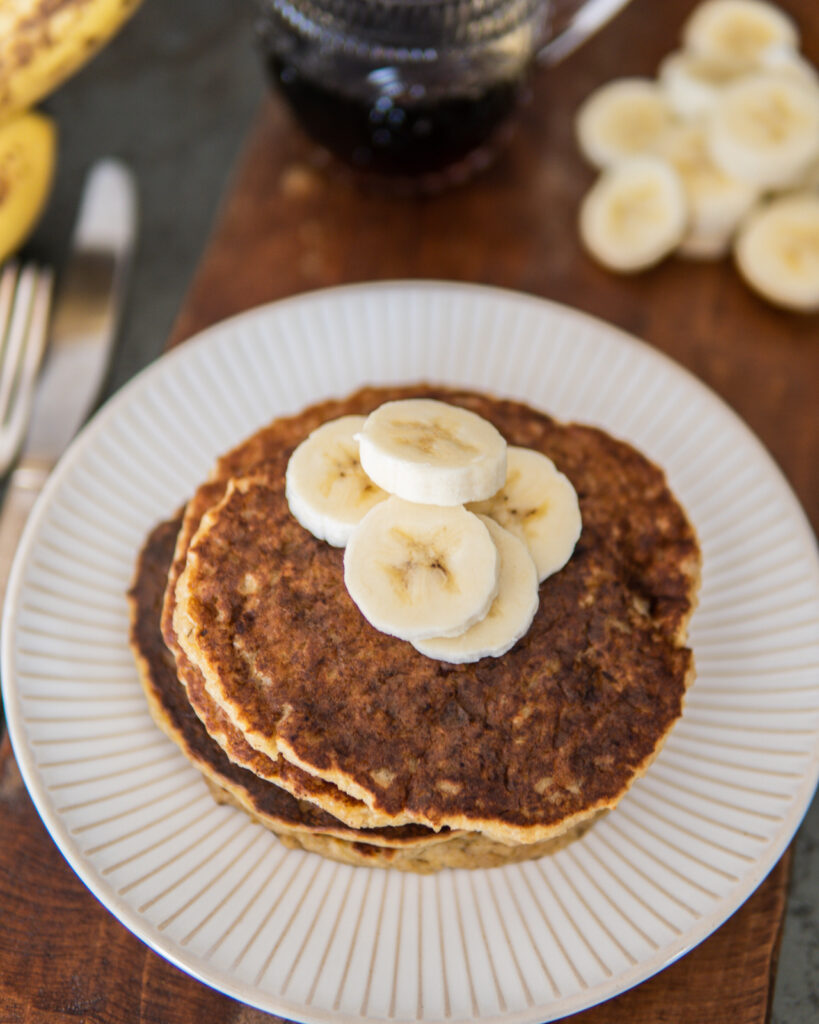 5 ingredient pancakes.
5 ingredients? I bet you're thinking "Sammy, you have more than five ingredients listed below. Did you forget to count a few?" I know, I know, there are more than 5 BUT those others are extras. The pancakes themselves are a whisk of 5 ingredients and you'll have yourself a short stack of fluffy and filling hot cakes to start your morning off on the right foot.
We all need easy in the mornings. Do you ever have those mornings where you write down your to-do list and start cranking through but forget to even take a sip of your coffee? Before you know it, it's 10:30am your coffee is cold and you've forgotten to eat breakfast. Enter these 5 ingredient Banana Oatmeal Pancakes to save your busy mornings!
The shopping list:
3 packets of instant oatmeal (about 1 cup quick cooking oats) — I love having quick cooking oatmeal packets in the pantry. They are perfect for a late night snack or for tossing into this recipe. Maple Nut is my favorite!
2 browned bananas, mashed — Ideally, you're using brown spotted bananas for mashing into the "batter".
2 eggs, whisked
1 teaspoon vanilla
pinch of kosher salt
2 tablespoons butter — The butter is used to coat the skillet for cooking.
1 ripe banana, sliced — Perfectly ripened sliced banana on top of your stack is the ideal way to finish your plate, adding extra banana flavor to these banana pancakes.
Maple syrup for serving — You cannot have pancakes without drizzling with dark Vermont maple syrup!
Why instant packs of oatmeal?
Using instant oatmeal packets is a great shortcut because it eliminates the need to measure several ingredients – just empty the packets, stir in remaining ingredients, and cook up an easy morning!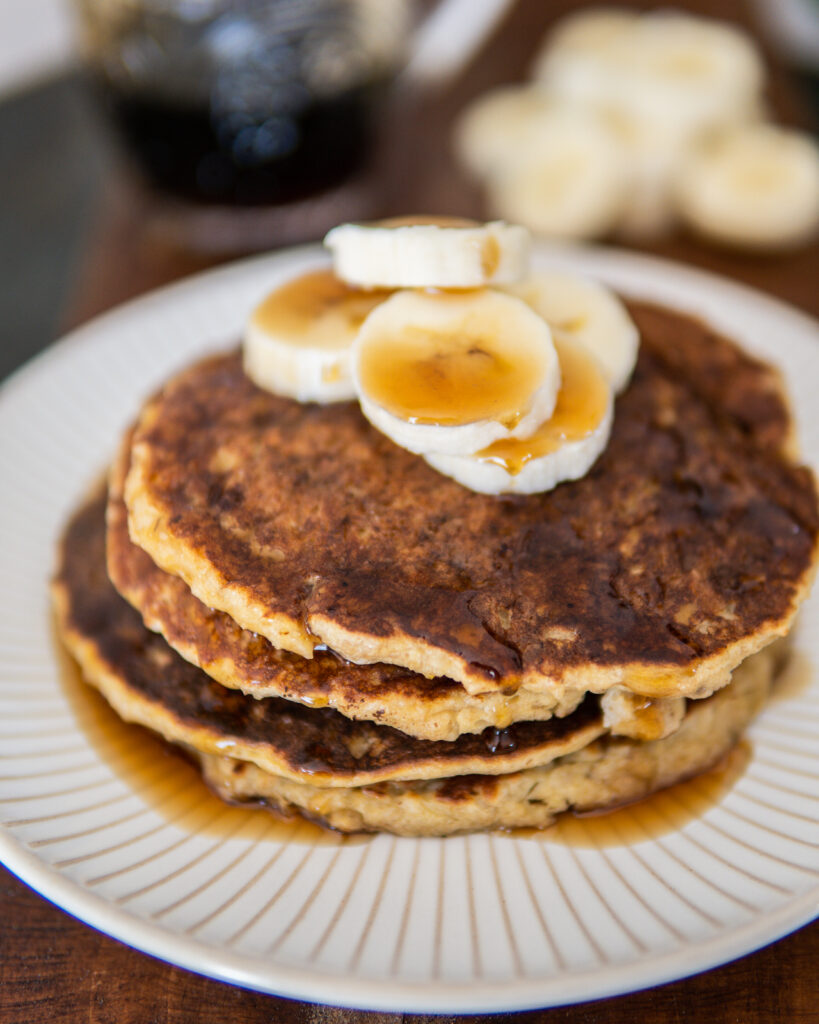 5 steps for an easy morning.
First, start by microwaving the oats in a little water. This helps soften the oats just enough to give you tender fluffy pancakes.
Second, add the mashed bananas, eggs, vanilla and salt.
Thirdly, heat a skillet with just enough butter to coat the pan.
Next, scoop your batter into the pan and cook on the first side 3-5 minutes, or until golden, before flipping.
Lastly, serve these tender pancakes with fresh sliced bananas and a drizzle of maple syrup for a touch of added sweetness.
How to top Banana Oatmeal Pancakes
The possibilities are really endless! I like to keep things simple with slices of rip bananas and a hearty drizzle of maple syrup. This recipe makes 6 nourishing pancakes. For reference, a Mat-sized serving would be 3 pancakes with about 1/2 a banana sliced and a heavy pour of maple syrup. For comparison, a Sammy-sized serving is 2 pancakes with about 1/4 a banana sliced and a reasonable pour of maple syrup.
Here are some other topping options:
Butter makes everything better and an additional pat of butter on the pancakes just as they come off the skillet. The heat from the freshly-cooked pancakes with melt the butter perfectly.
Peanut Butter smeared on top or drizzled over the pancakes and bananas adds an extra dose of healthy fats and flavor.
Turn these Banana Oatmeal Pancakes into Chunky Monkey pancakes by adding chocolate chips and walnuts either into the pancakes or simply as toppings.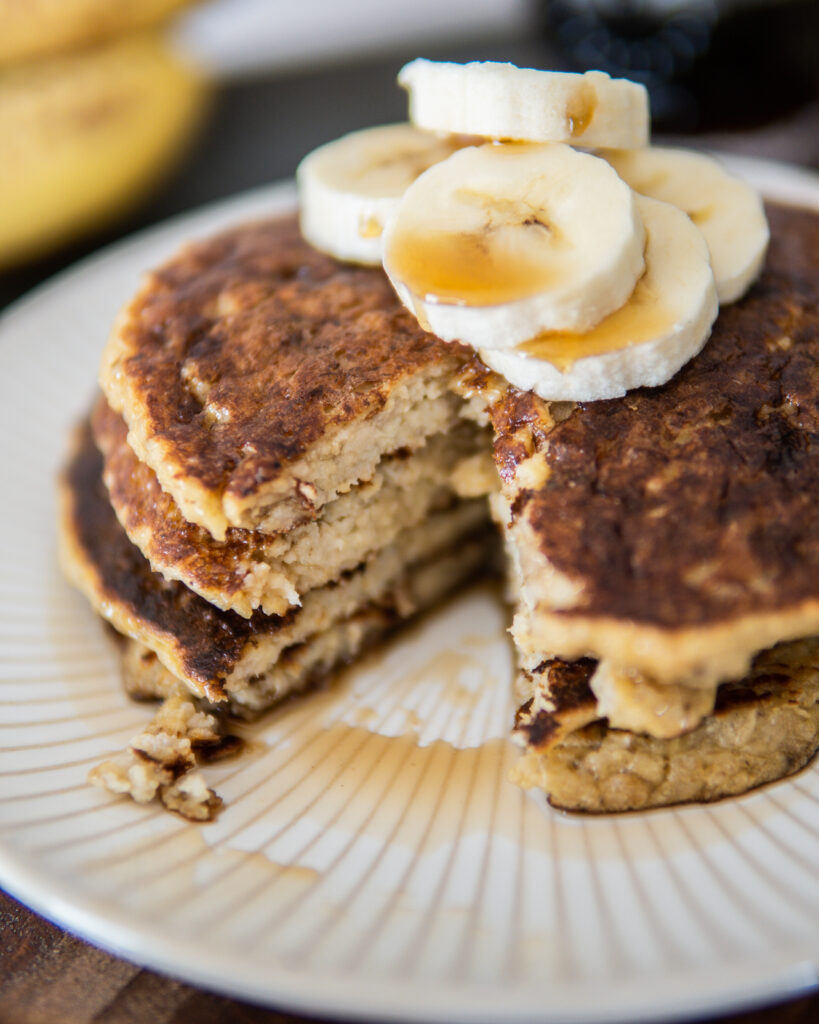 Looking for more sweet breakfast ideas?
Here are a few to try:
FLUFFY EGGNOG RICOTTA PANCAKES
CINNAMON SWIRL BANANA COFFEE CAKE
Lastly, if you make these Banana Oatmeal Pancakes, be sure to leave a comment and/or give this recipe a comment! Above all, I love to hear from ya'll and do my best to respond to every comment. And of course, if you do make this recipe, don't forget to snap a pic and tag me on Instagram! Looking through the photos of your dayyyummm good recreations is my favorite!
Instructions
Place the oats in a large microwavable bowl and mix with just enough water to coat the oats (about 1/2 cup). Microwave for 90 seconds. Stir the oats to release some steam.
Add the mashed bananas to the oats and stir. Lastly add the eggs, vanilla and salt, stir to combine.
Heat a skillet over medium heat. Add 1-2 teaspoons of butter to the skillet to melt.
Using a 1/4 cup measuring scoop add batter to the heated skillet. Cook for 3-4 minutes and then flip. Cook additional 1-2 minutes on other side until golden. 
Serve pancakes with butter, sliced bananas and maple syrup.
Notes
*watch your temp closely, the high sugar content in banana will burn if the pan is too high.
Nutrition Information: 2 servings (3 pancakes each) 611 cals / 11g F / 98g C / 14g P