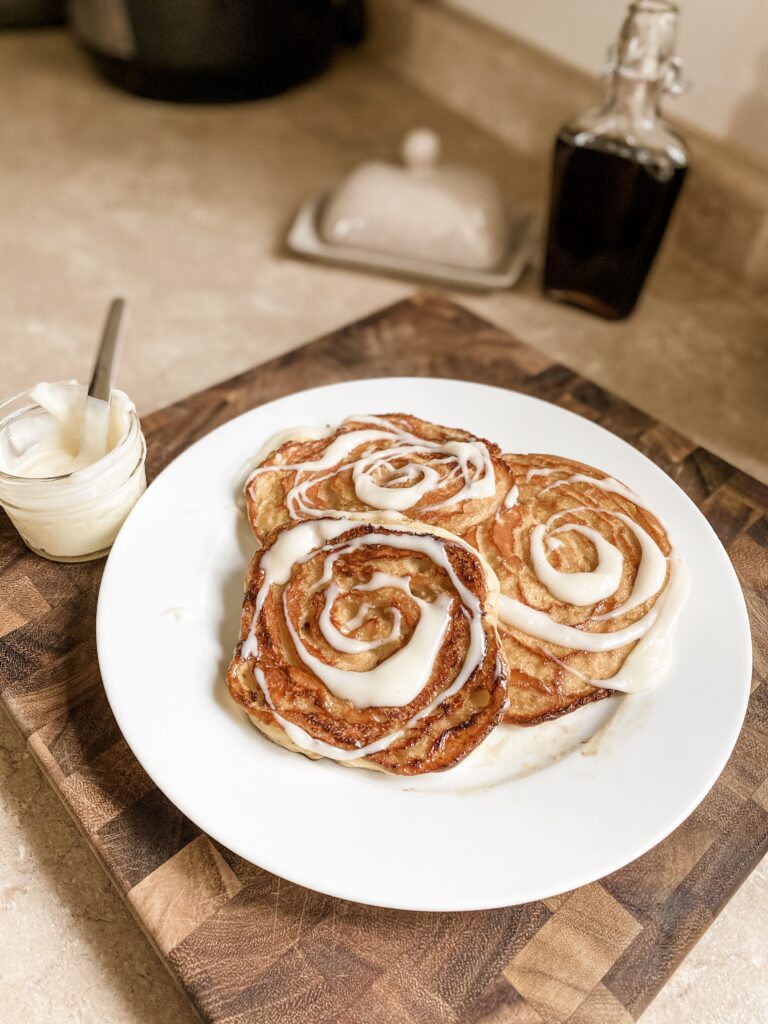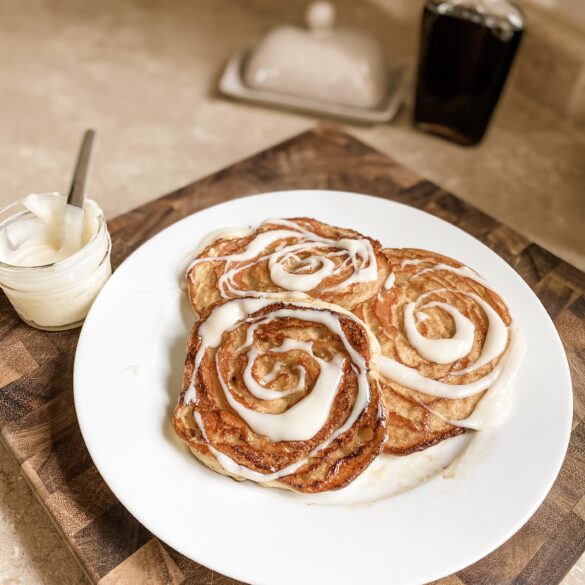 Ingredients
2 eggs
1 cup plain yogurt
2 teaspoons pure vanilla extract
1 cup all-purpose flour
1 tablespoon brown sugar
1/2 teaspoon baking soda
pinch of salt
Cinnamon Swirl:
5 1/2 Tbsp packed brown sugar
1/4 cup butter, melted
1 1/2 tsp cinnamon
Cream cheese icing:
4 oz cream cheese, at room-temperature
1 cup confectioners sugar, sifted
1 tsp pure vanilla extract
butter for serving
pure maple syrup for serving
Instructions
Beat the egg whites with hand mixer for 2-3 minutes.
In a large bowl mix egg yolks, yogurt and vanilla.
In a separate bowl combine the flour, brown sugar, baking soda and salt.
Pour the dry ingredients into the wet. Using a rubber spatula mix until just combine.
Working in batches, gently fold the egg whites into the batter.
In a small bowl, mix the melted butter, brown sugar and cinnamon. Transfer the cinnamon sugar paste to ziplock bag, cut a tiny hole into one corner and set the bag aside.
Heat a large skillet over medium heat. Use butter or cooking spray to coat the surface. Add 1/4 cup of batter to the hot skillet and then swirl cinnamon sugar paste into the pancake. Cook until pancakes bubbles, then flip. 
While the pancakes are cooking, prepare the icing. In a small bowl combine the softened cream cheese, powdered sugar and vanilla.
Smear or drizzle the icing on your pancakes. Enjoy with added butter and maple syrup to taste. 
Notes
We hardly ever use extra butter or maple syrup on these as they are SWEET enough but to each their own!