If I'm traveling or dining-out for brunch and shakshuka is on the menu, I put the menu down without further investigation because I'm 100% ordering it. This Sunday Brunch Shakshuka is my weekend go-to. It's cozy and filling and perfectly spiced. Not to mention I've made this recipe with a pantry staple, Mina Shakshuka. I keep a solid stock of these jars in the pantry to ensure when the Sunday morning brunch craving strikes, I can enjoy a delicious and high-quality meal at home and under 20 minutes.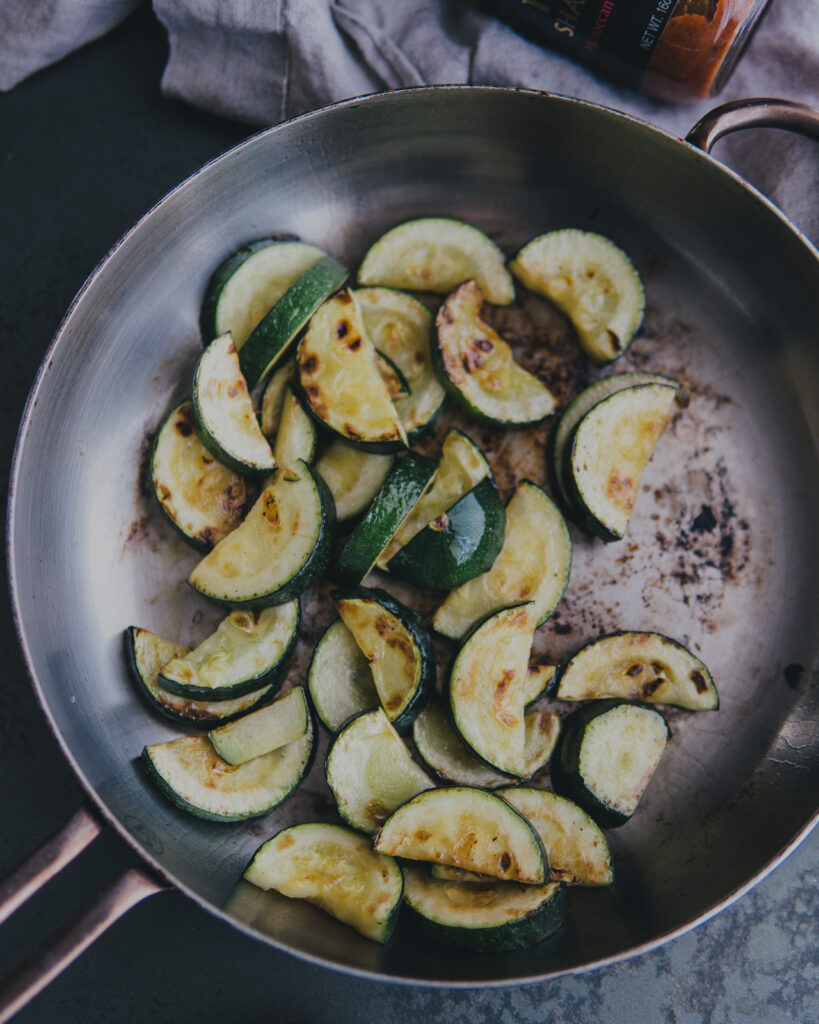 What is shakshuka?
A spiced tomato sauce often cooked with onions, peppers and eggs cooked right into the dish. Most commonly associated with middle eastern cooking. This dish is similar to Italian eggs in purgatory or Mexican huevos rancheros. The premise is the same, a saucy stew of vegetable with eggs cooked into, or served on top of, the dish. Seasoned most commonly with garlic, cumin and paprika. Full of flavor, hearty vegetables simmered to perfection ready for a cozy weekend.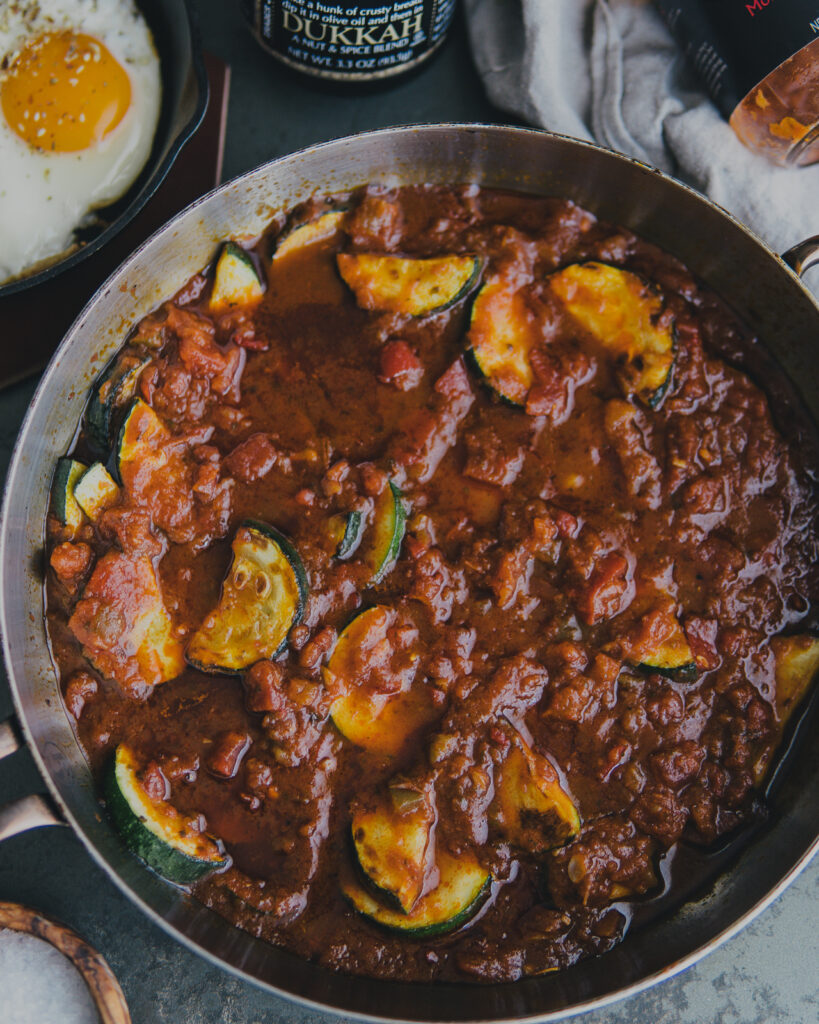 The grocery list.
olive oil — one of my favorite ingredients for cooking vegetables as well as for perfectly crisped fried eggs.
zucchini — this is not a traditional ingredient in shakshuka BUT it's one of my favorite vegetables to add to this dish. Known for it's versatility and packed with many vitamins, minerals, and antioxidants AND it's high in fiber. What's NOT to love about it being added to this dish??
Mina Shakshuka — a true pantry staple. Don't let your pantry go without!
eggs — whether you bake them in the tomato sauce, scramble or olive oil fry, eggs are the ultimate topper for this Sunday brunch dish.
cilantro leaves — I love to finish dishes with fresh herbs whenever possible. Some people have inversions to cilantro and in that case, you can use parsley.
feta cheese — this salty crumbly cheese is perfect for topping this saucy dish. Crumbled goat cheese is a great alternative if you're looking for a substitution for feta.
dukkah seasoning — this is a traditional Egyptian condiment. I never knew I needed this mix of nuts, seeds and spices in my life and now I don't know I could have eggs without it. The first time I ever experienced this spice mix was in 2016 in Australia. I came home to find this blend and haven't looked back.
sourdough bread — sourdough is a staple in our house but we also love rye, seeded rye and oat.
salted butter — there is nothing better than salted butter. That's my personal opinion but you wouldn't be here if you didn't want to hear my opinion 😉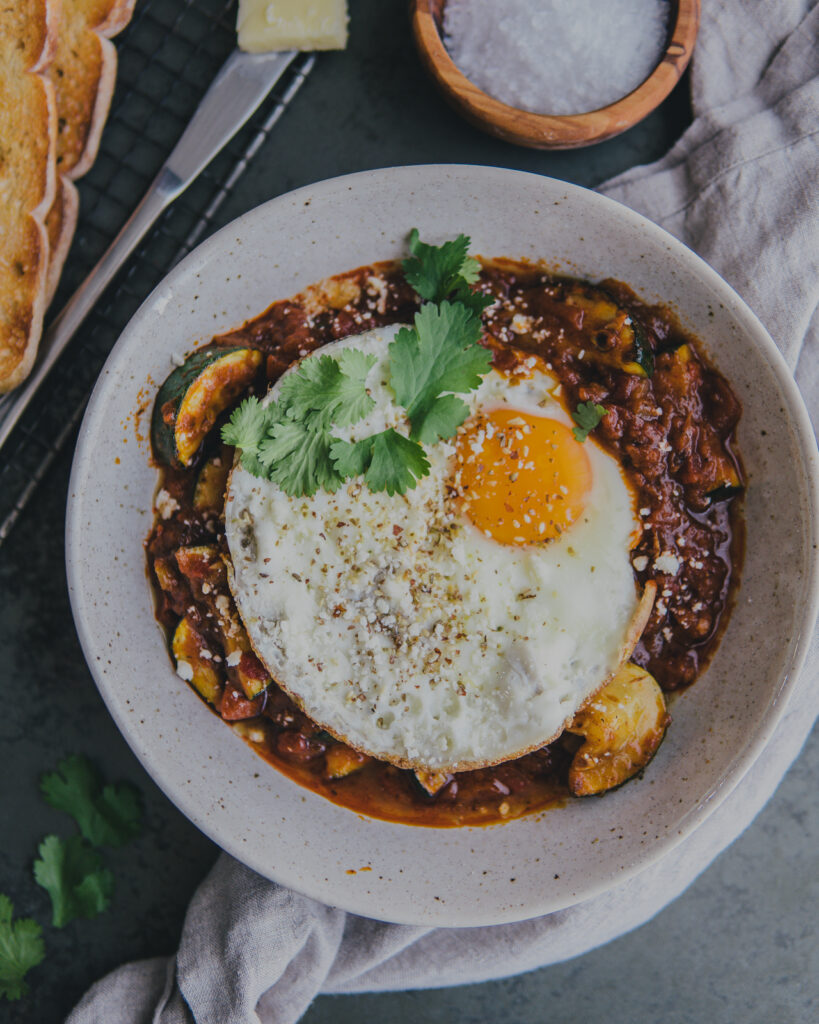 The ideal egg topper.
Traditionally in this dish, the eggs are baked into the spiced tomato simmer sauce. The whites are baked until just set and while the yolks are soft. This recipe features crispy edged olive oil fried eggs. I prefer to cook them this way for two reasons. One, it's my absolute favorite way to prepare and eat eggs. Two, it gives the perfect texture to this stewed vegetable dish. The crispy edges provide the perfect contract to soft sautéed zucchini chunks and delicate pools of tomato sauce.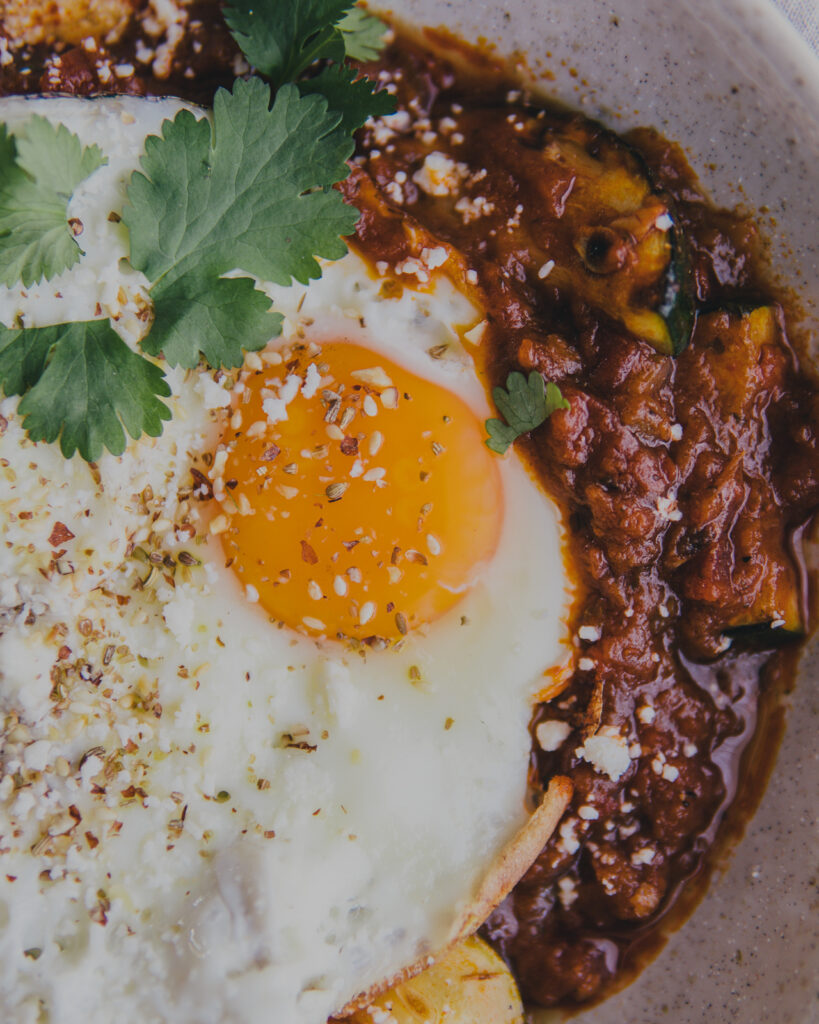 Looking for more brunch ideas?
Here are a few to try:
APPLE BUTTER BACON TOAST W/ CHEDDAR & ARUGULA
BURRATA CHERRY & PROSCIUTTO CROSTINI
Lastly, if you make this Sunday Brunch Shakshuka recipe, be sure to leave a comment! Above all, I love to hear from ya'll and do my best to respond to every comment. And of course, if you do make this recipe, don't forget to snap a pic and tag me on Instagram! Looking through the photos of your dayyyummm good recreations is my favorite!
This post contains affiliate links that will not change your price but will share some commission.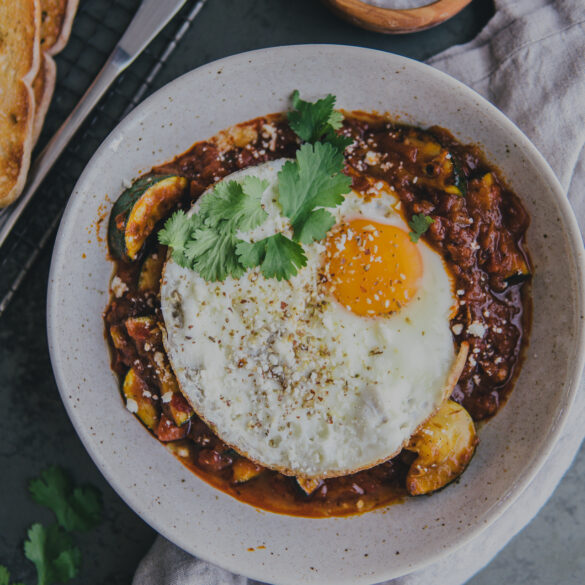 Ingredients
1/4 cup olive oil, divided
1 large zucchini, cut in half lengthwise and then sliced into half moons
2 jars Mina Shakshuka
8 large eggs
1/4 cup cilantro leaves
4 ounces feta cheese
1 tablespoon dukkah seasoning 
4 slices sourdough bread, toasted
2 tablespoons salted butter, softened
Instructions
Heat a large non-stick skillet over medium-high heat. Add 1 tablespoon of olive oil. When the oil shimmers, add half the zucchini to the pan. Cook for 2-3 minutes without touching. Toss the zucchini and cook an additional 2-3 minutes. Remove the cooked zucchini and cook the second batch.
Return all the zucchini to the pan. Add the jars of Mina Shakshuka and simmer for 7-10 minutes.
Heat a cast iron skillet over medium heat with the remaining 2 tablespoons of olive oil. Crack the eggs and cook to preferred doneness (we love over easy!).
To serve, evenly distribute the shakshuka among 4 bowls. Top each bowl with 1-2 fried eggs.
Serve each bowl topped with cilantro, crumbles feta and dukkah seasoning sprinkled on top of the eggs with a side of toasted and buttered sourdough bread.