This one pan Dutch Oven Chipotle Chicken is a perfectly cozy meal AND it's great for meal-prep! packed with protein from the chicken and filled with fresh veggies like poblano, bell pepper, onion and cilantro. All the ingredients simmer in enchilada sauce to bring it together. Think saucy fajitas, bold in flavor and packed with bites of chicken. Best served over a bed of rice and topped with creamy guacamole (or sour cream!) and additional fresh cilantro. Best yet, this dish holds up to reheating for meal-prep. For those who like to/ need to batch cook for the week, this recipe will be the recipe to get you prepped and ready to take on a busy week!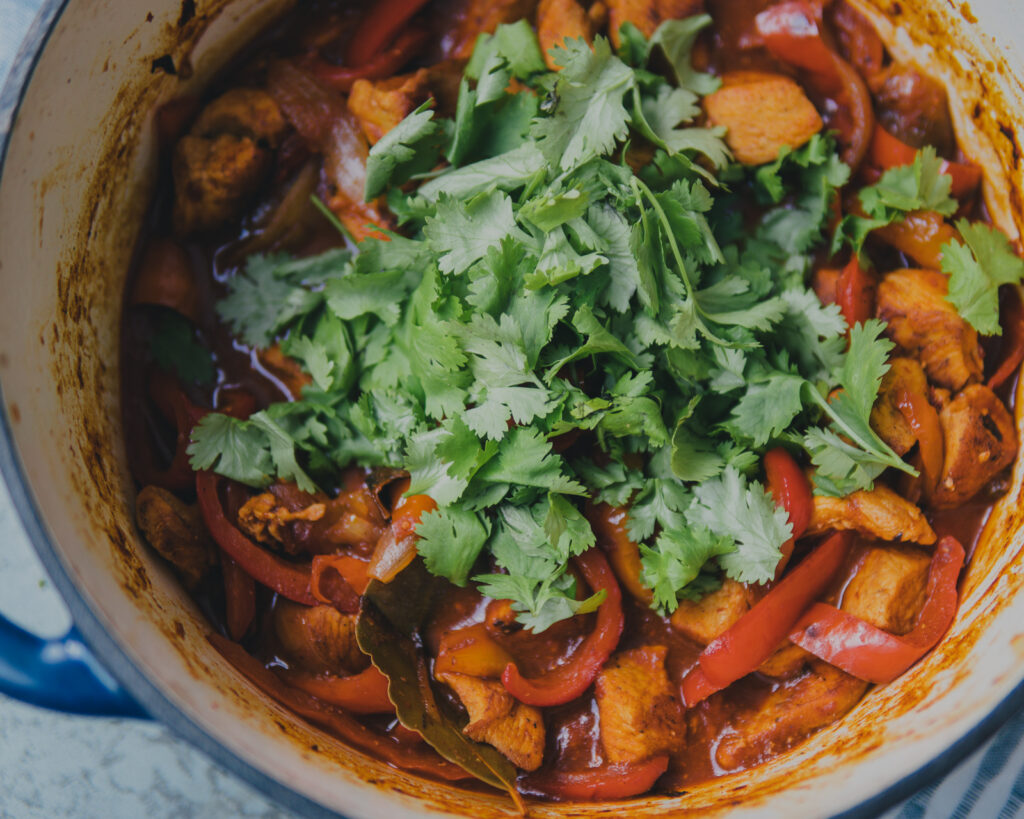 Few steps to meal-prepped
First, char the fresh vegetables. Second, brown the chicken. Next, combine the veggies, chicken and enchilada sauce and simmer. After that, serve the dish topped with a cool element like creamy guacamole or sour cream to balance the flavors. BOOM. That's it! In conclusion, this recipe makes meal prep super simple and wildly delicious.
This saucy chipotle chicken is best served over a bed of white rice to sop up all the juices. Layer your meal-prep containers with cooked white rice, a hearty serving of chicken and veggies and I suggest adding your toppings (like guacamole or sour cream) just before eating. Our go-to containers great for meal-prep and for stacking in the fridge are these Glass Food Storage Containers with Bamboo Lids. My favorite part is how perfectly they stack. The containers are microwave safe and can be popped right into the oven for at-home reheating.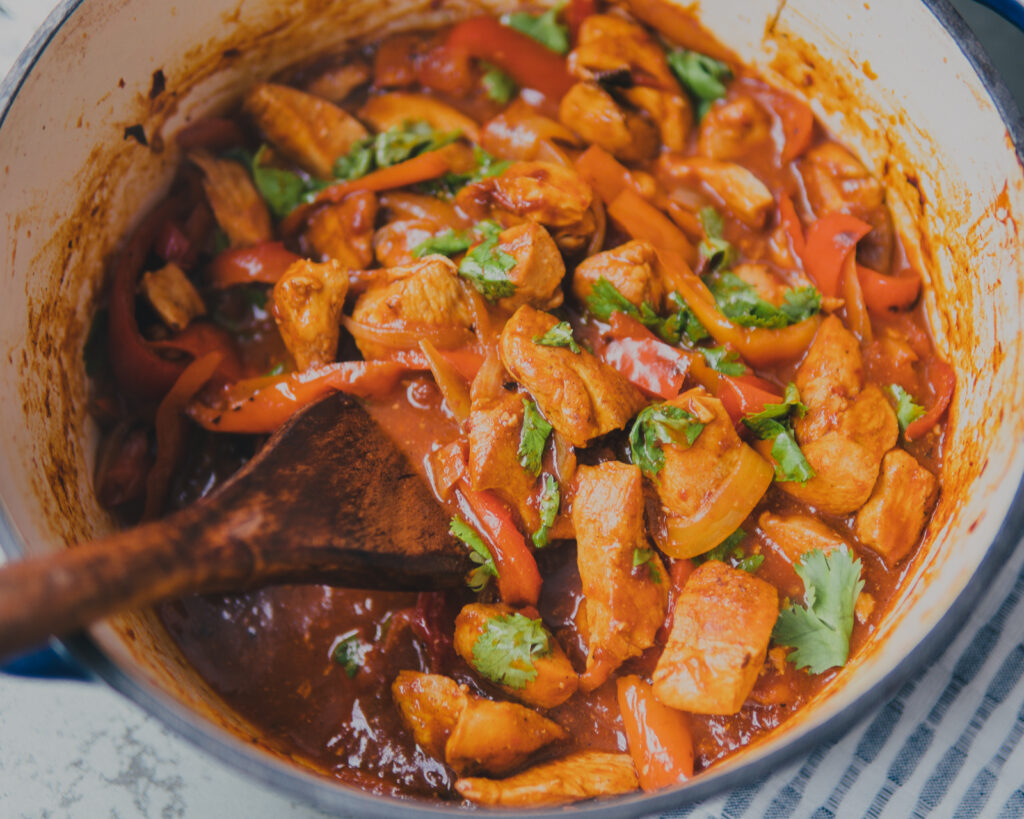 Looking for more meal-prep recipes? Here are a few to try:
ITALIAN SAUSAGE SHEET PAN WITH SEASONAL VEGGIES
Most importantly, if you make this Dutch Oven Chipotle Chicken recipe, be sure to leave a comment and/or give this recipe a comment! Above all, I love to hear from ya'll and do my best to respond to every comment. In other words, if you DO make this recipe, don't forget to snap a picture and tag me on Instagram! Looking through the photos of your dayyyummm good recreations is my favorite!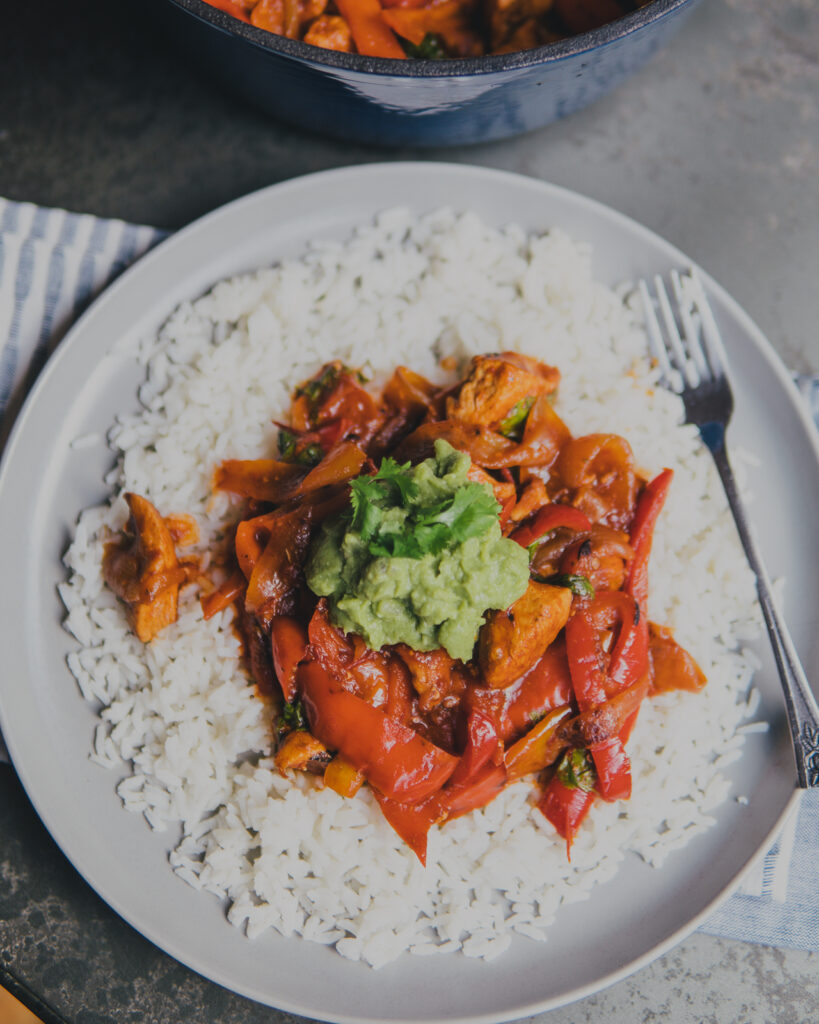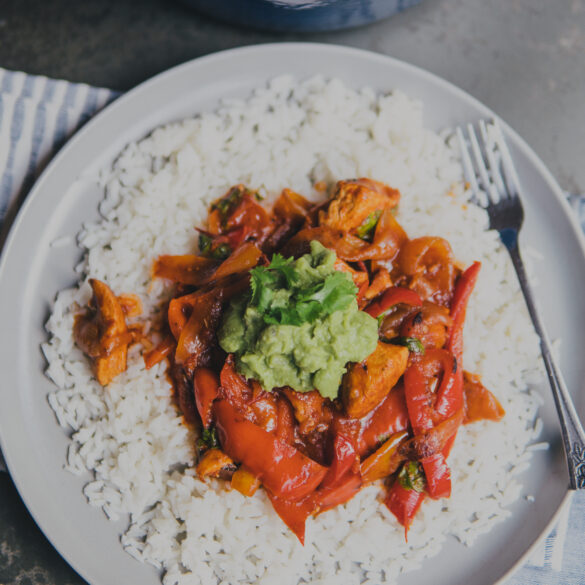 Ingredients
2 tablespoons olive oil, divided
1 roasted poblano pepper, sliced
1 bell pepper, sliced
1 onion, slices
2 pounds ButcherBox chicken breast (or thighs), cubed
1/2 teaspoon salt
1/2 teaspoon pepper
1 tablespoon chili powder
1 teaspoon ground cumin
2 cups enchilada sauce**
2 teaspoon minced garlic
2 chipotles in adobo, chopped**
1 cup fresh cilantro, plus more for serving
Avocado, sliced or mashed for serving
1 lime, sliced for serving
2 cups cooked white rice (or cauliflower rice) for serving
Instructions
Heat 1 tablespoon of olive oil in a large dutch oven over high-medium heat. When the oil shimmers add the poblano, bell pepper and onion. Cook for 5-7 minutes until slightly charred. Remove the peppers and onions from the dutch oven and set aside.
Toss the cubed chicken with salt, pepper, chili powder and cumin. Heat the remaining tablespoon of olive oil in the dutch oven. Add the chicken to the hot pan in batches to brown. Don't over-crowd the pot to help brown the chicken. Cook for 3-5 minutes on each side. Remove one batch and brown the remaining chicken.
Once all the chicken has browned, return all the chicken and the charred peppers and onions to the dutch oven.
To the dutch oven, add the enchilada sauce, minced garlic, chopped chipotles and bay leaves.
Bring the pot to a boil. Reduce the heat, cover and simmer on low for 30 mins. Remove the bay leaves and add fresh cilantro.
Serve over rice (or cauliflower rice) with avocado or guacamole, additional fresh cilantro and a squeeze of lime!
Notes
Enchilada Sauce:
In a large sauce pot, heat the olive oil over medium heat. Add the flour and stir continuously. Cook 1-2 minutes until golden.
Stir in the tomato paste and all remaining ingredients except for the broth. Cook 1-2 minutes.
Slowly add the broth a little at a time whisking until smooth. Reduce the heat and simmer 10-15 minutes until slightly thickened.
** A can of chipotles in adobo may have 5-7 peppers in the can, this recipe calls for TWO total peppers. Remove the peppers from the sauce, chop them up and add them to the recipe. They provide a good bit of heat so if you are sensitive to spice adjust accordingly. 
Nutrition Information: Serves 6 / 302 cals / 13g F / 9g C / 36g P (not including rice/cauli rice)