A whole roasted turkey can be overwhelming and intimidating. This Sage & Citrus Roasted Turkey w/ Citrus Butter is not only delicious but it's no-fuss! There's no 48 hour brining or basting. Smear the turkey with a seasoned butter, stuff the inside with 3 ingredients and toss it in the oven. For this recipe, I didn't even use a roasting pan because guess what? I don't have one! I put a wire rack over a baking sheet and called it a day! This is a NO-FUSS recipe with ALL the yummy citrus flavor.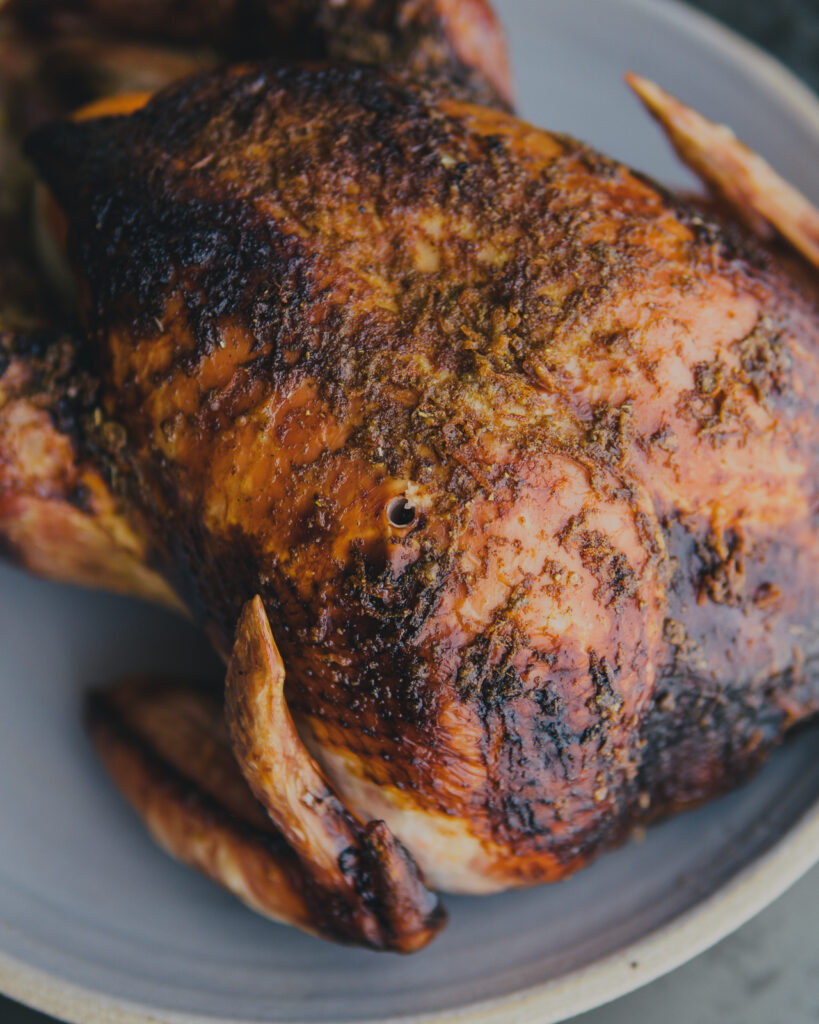 Tips for roasting the perfect bird.
Let's just start out by saying, I've roasted a total of 6 turkeys in my time. That's not a lot of turkeys and I'm no PRO here but here are three tips I've picked up along the way. I hope you try this recipe BUT if you use another, I hope these tips are transferable and help make that recipe the best for you.
Top three tips for the perfect bird.
Tip one: Skip the basting.
Are there upsides to basting? Sure. BUT, when you're cooking something for 3-4 hours, the last thing you want to do is spend more time tending to it. Basting just means you're opening the oven more frequently. The temperature fluctuations can actually contribute to a dry turkey. This bird is coated with a seasoned butter and this is going to give you that shiny crispy skin sought after from basting.
Tip two: Check your temp.
Most conventional holiday turkeys have the button thermometer placed into breast of the turkey. This is a great start! I am obsessed with my instant-read thermometer and think its the best for checking to make sure it's cooked the the target 165°F. When your thermometer reads 165°F, the turkey is done and ready to be pulled from the oven.
Tip three: Let the turkey rest.
I know what you're thinking, "It's been cooking for 4 hours, filling my house with amazing smells and I have to wait another 15 minutes?!" It can be hard when the smells of citrus and turkey have been teasing your senses BUT it is SO worth the wait. The rest allows all the juices to settle back into the meat giving you a tender cut of turkey in every bite.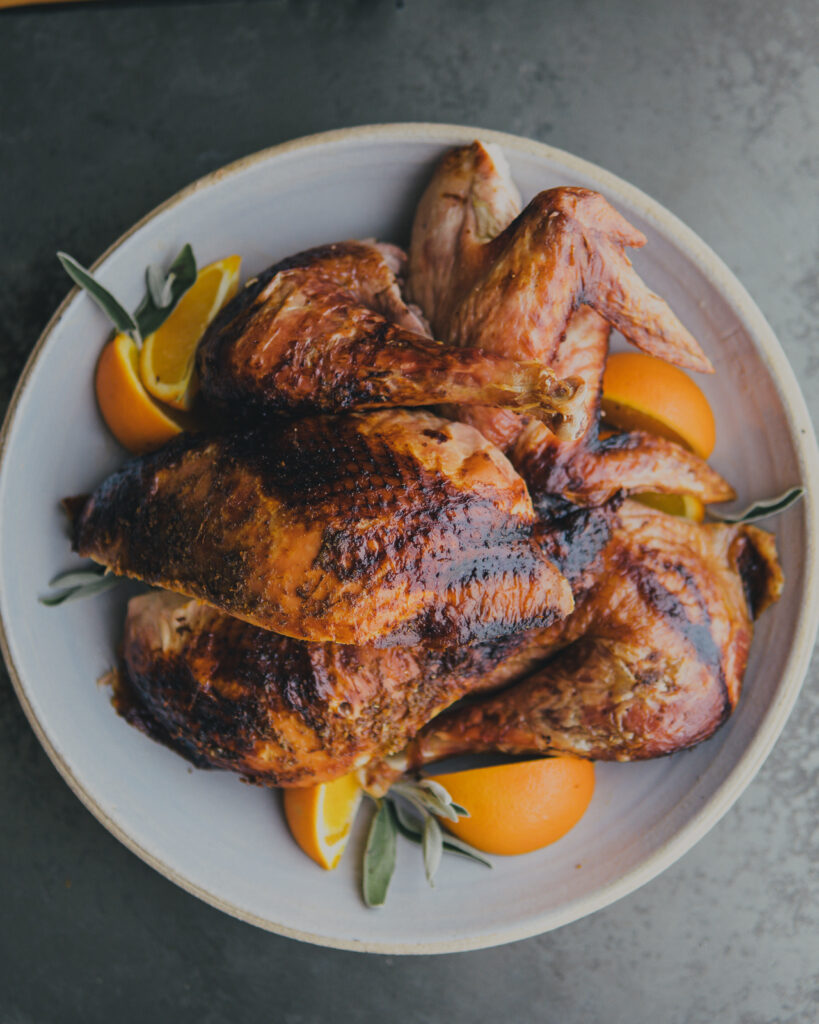 The flavor inspiration.
The inception of this recipe came to be in the spring. I was having a hard time getting into the flavor flow of fall and Thanksgiving with spring weather in the air. I wanted to cook a holiday feast with light, bright and spring-like flavors. Citrus season, for citrus like these naval oranges, is from autumn until spring and this recipe squeezes (no pun intended!) the last bit of peak freshness from this ingredient. Serve the turkey with stuffing and cranberry sauce to pull all those fall flavors or a hearty salad like this FALL HARVEST QUINOA SALAD. It's easy and bright and perfect for those spring holiday celebrations.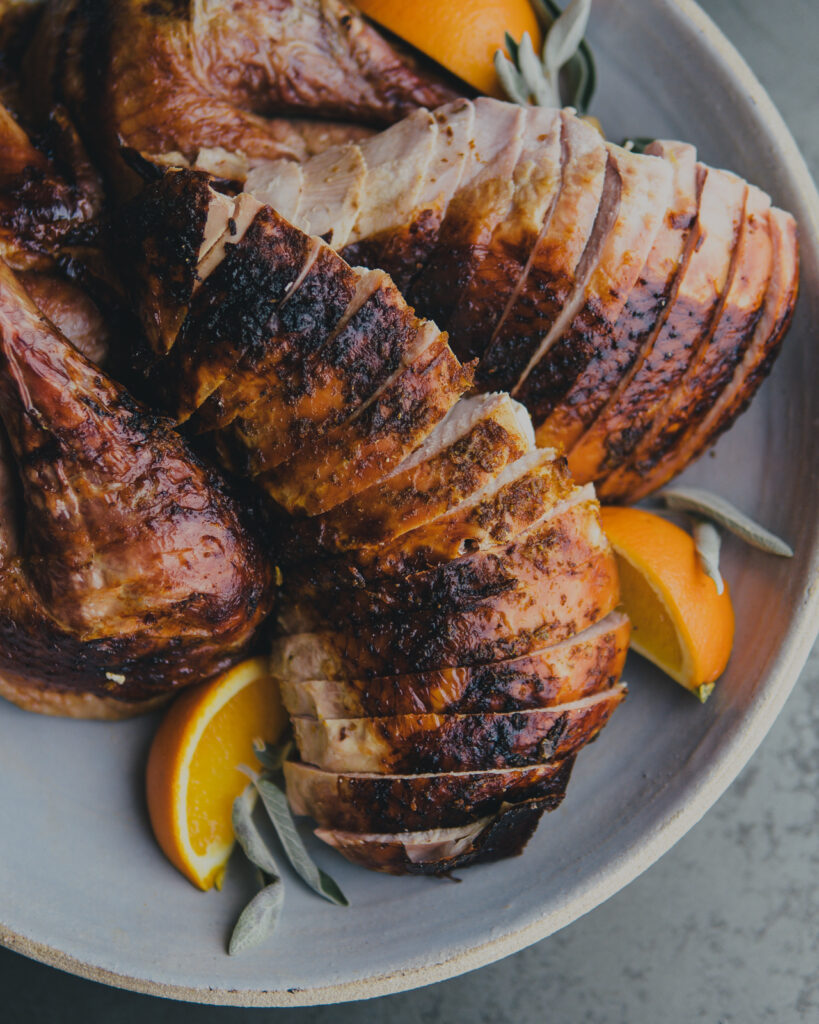 The grocery list.
When we break it down, this recipe calls for a turkey, a seasoned butter and 3 ingredients to stuff inside for an extra boost of flavor. There are a few small differences between the coating butter and the compound butter but they are not to be skipped. The coating butter adds amazing flavor to the turkey while it cooks and the compound butter highlights those flavors while you eat! Life is made better with compound butter. That is a FACT.
Sage & Citrus Roasted Turkey w/ Citrus Butter
10-12 pound whole turkey — I typically get my holiday bird from ButcherBox but it's a seasonal item. Other family favorite farms/companies that offer this item (some only in holiday season) are Force of Nature, Belcampo Meat Co. and Diestel Family Ranch.
kosher salt — my favorite kind of salt for cooking!
salted butter — nothing better than salted butter.
orange zest — the orange adds such a beautiful POP to this herby turkey.
ground sage — sage and orange are the perfect pairing for this springtime turkey recipe.
honey — just a touch of sweetness goes a long way.
sweet onion — stuffing with turkey with onions not only helps the turkey retain moisture from the inside but the meat will retain flavors from these ingredients cooking within. I think about using similar ingredients for a chicken noodle soup. You're not eating the soup for the onions, carrots and celery, but without those items the soup would be bland.
cavity of the turkey enhances the zesty citrus flavor from within.
celery heart — I think about using similar ingredients for a chicken noodle soup. You're not eating the soup for the onions, carrots and celery, but without those items the soup would be bland.
Stuffing — homemade** or store-bought. If I'm going with store-bought I either want the Herb Seasoned or the Cornbread style. **My favorite holiday stuffing recipe will be in my cookbook available in 2022, Ya'll will have it SO soon!
Cranberry Sauce — over the years we have tried them all and there is just something about the good old fashion canned cranberry sauce we just can't get enough of.
Citrus Compound Butter
salted butter — everything I do is with salted butter, I LOVE it and have yet to find it too salty.
orange zest — this brightens and highlights the flavors used to cook the turkey.
2 teaspoons flaky salt — a little crunch and pop of salt in this butter goes a long way.
1/4 teaspoon garlic powder — adding some aroma to each bite.
1/8 teaspoons ground sage — rounding out the herbs used in this recipe while not letting them overpower the compound butter.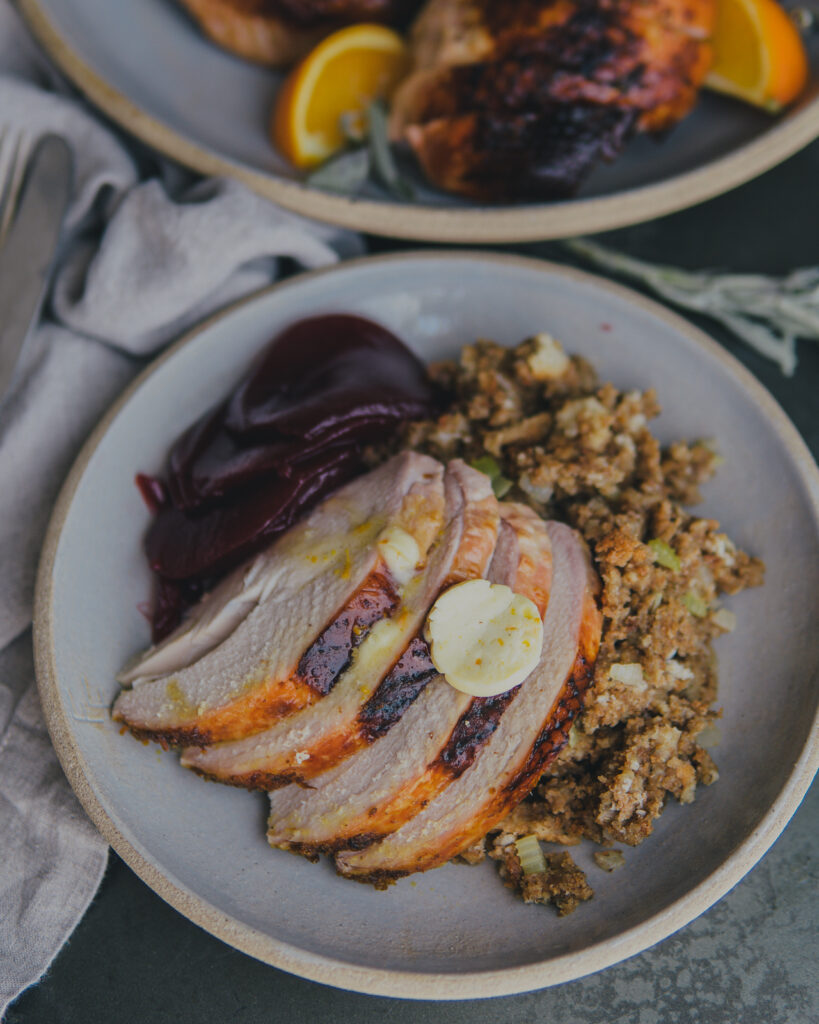 Looking for more holiday meals?
Here are a few to try:
GARLIC PARMESAN ROASTED CAULIFLOWER
CARDAMOM CARROT LOAF W/ BROWN BUTTER MAPLE CREAM CHEESE FROSTING
Lastly, if you make this Sage & Citrus Roasted Turkey w/ Citrus Butter recipe, be sure to leave a comment! Above all, I love to hear from ya'll and do my best to respond to every comment. And of course, if you do make this recipe, don't forget to snap a pic and tag me on Instagram! Looking through the photos of your dayyyummm good recreations is my favorite!
This post contains affiliate links that will not change your price but will share some commission.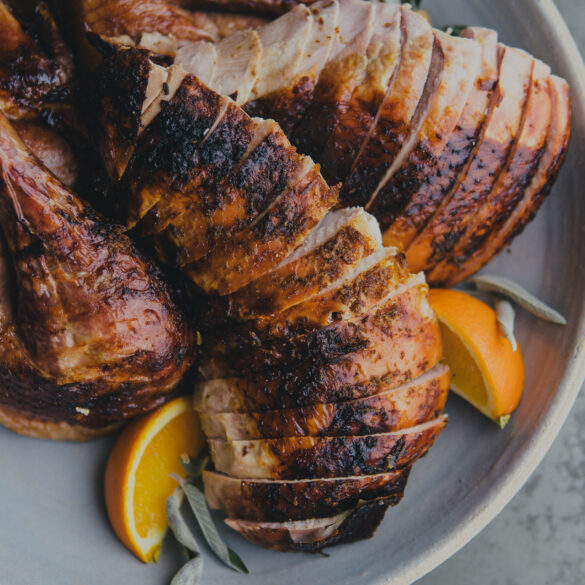 Ingredients
1 10-12 pound whole turkey
3 tablespoons kosher salt, divided
1/2 cup salted butter, room temperature
2 tablespoons orange zest
1 1/2 teaspoons ground sage
2 tablespoons honey
1 sweet onion, quartered
2 oranges, quartered
1 celery heart, cut into large chunks
Stuffing, for serving
Cranberry Sauce, for serving
Citrus Compound Butter
Instructions
Preheat the oven to 325°F.
Pat the turkey dry with paper towels. Sprinkle the turkey with 2 tablespoons of salt and work it into the skin of the turkey.
Prepare the coating butter, combine 1/2 cup of softened butter, 1 tablespoon of salt, 2 tablespoons of orange zest and 1 1/2 teaspoons ground sage. Coat the skin of the turkey with the butter, smearing all over and creating a "butter crust" on top of the breasts and thighs. Drizzle the top of the turkey with the honey.
Fill the cavity of the turkey with the quartered onion, oranges and celery. Place the turkey in a roasting pan or on a wire rack above a baking sheet. 
Roast in the oven for 3-4 hours or until the internal temperature reaches 165°F. If the top beings to darken before it's finished cooking, tent the turkey with a large sheet of aluminum foil. 
For the compound butter, combine 1/4 cup of softened butter with orange zest, flaky salt, garlic powder and pinch of sage. Place the butter on a sheet of plastic wrap, roll it into a small log and place it in the freezer to set. 
Once the turkey has reached 165°F internal temperature, remove it from the oven and rest it for 15 minutes. 
Carve the turkey and serve with stuffing, cranberry sauce and a slice of compound butter.