Skip to Recipe
This Santa Maria Tri-tip with Chimichurri is the perfect cut of meat for feeding the family. Not only does this 4 lb slab offer us 3-4 servings (Mat eats a ton!) but because of the unique shape, when the center is cooked to medium-rare the ends are medium-well. It's a happy-medium for serving people with different preferences on their steak temperature. The rub and mop sauce bring a ton of flavor. I also love an excuse to cover something with chimichurri, it makes this cut of beef sing!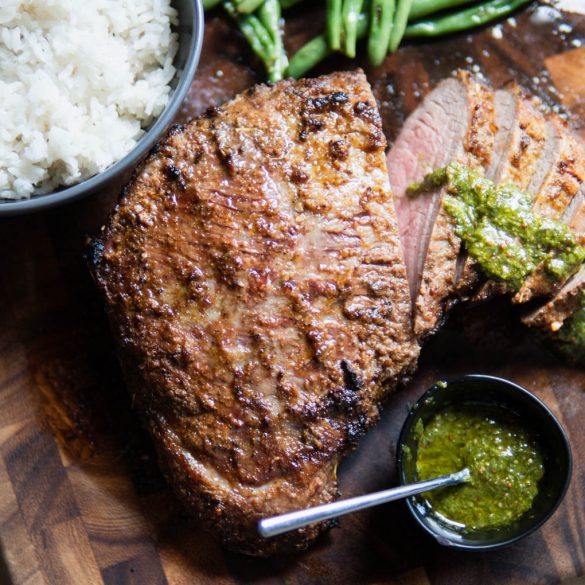 Ingredients
1 tablespoon salt
1 tablespoon black pepper
1 tablespoon garlic powder
1 tablespoon smoked paprika
2 teaspoons onion powder
2 teaspoons rosemary
2 teaspoons cayenne
1 beef tri-tip
1/3 cup red wine vinegar
1/3 cup olive oil
1 tablespoon garlic, minced
2 teaspoons whole grain dijon mustard
Instructions
In a small bowl mix the first seven ingredients. Coat the try-tip with the spice mix and refrigerate for 1-4 hours.
To make the mop sauce, combine the red wine vinegar, olive oil, garlic, and dijon. Set aside.
When ready to cook, remove the tri-tip from the fridge and rest on the counter while the grill preheats. Preheat the Traeger grill to 450-500°F.
Place the tri-tip directly on the grill grates, brush with the mop sauce. Flip and brush with the mop sauce every 5-7 minutes until the internal temperature reached 130°F for medium-rare, about 20 minutes depending on the size of your tri-tip.
Remove the tri-tip from the grill and rest for 10 minutes before slicing. Serve with rice, charred veggies, and chimichurri sauce.