It's a chill and rainy Monday here and on days like today, all I want is comfort food. This Pressure Cooker Butter Chicken is perfect on a day like today. Something that warms you from the inside out! Not only is this what I'd call "slap-together" meal but it'll warm your bones. "Slap-together" because all you need is 15-20 minutes in the pressure cooker and warmth will fill your house and belly. Yes please!
First, let's all bust out our trusty pressure cookers. I cannot believe this meal comes together in 15-20 minutes with cook time and pressure release time. Before you know it, dinner will be hot and ready to serve! the instructions below are for the pressure cooker but you can easily make this in a slow cooker as well (low 6-8 hrs or high 4-5). Every slow cooker is a little different, you know your's best so use your judgement and enjoy!
This Pressure Cooker Butter Chicken dish is best served over cooked white rice and with a side of Naan to sop up all the saucy juices. You can fresh-make your naan or use store-bought. I always enjoy this recipe when I have a ready batch of white rice cooked for the week for an even easier meal-time execution.
If you're looking for our go-to recipe, you can find it in the Feeding the Fraser's Fan Favorite Recipes eBook! We compiled the top 15 recipes ever shared and collected them into one place just for you. Grab yourself a copy and see for yourself why we make that white rice recipe on repeat each week. Smooth and slightly coconut-y with a lusciousness from the butter. It's guaranteed to enhance the flavor and fullness of any meal, perfect for fueling you mid-day or filling your belly at dinner.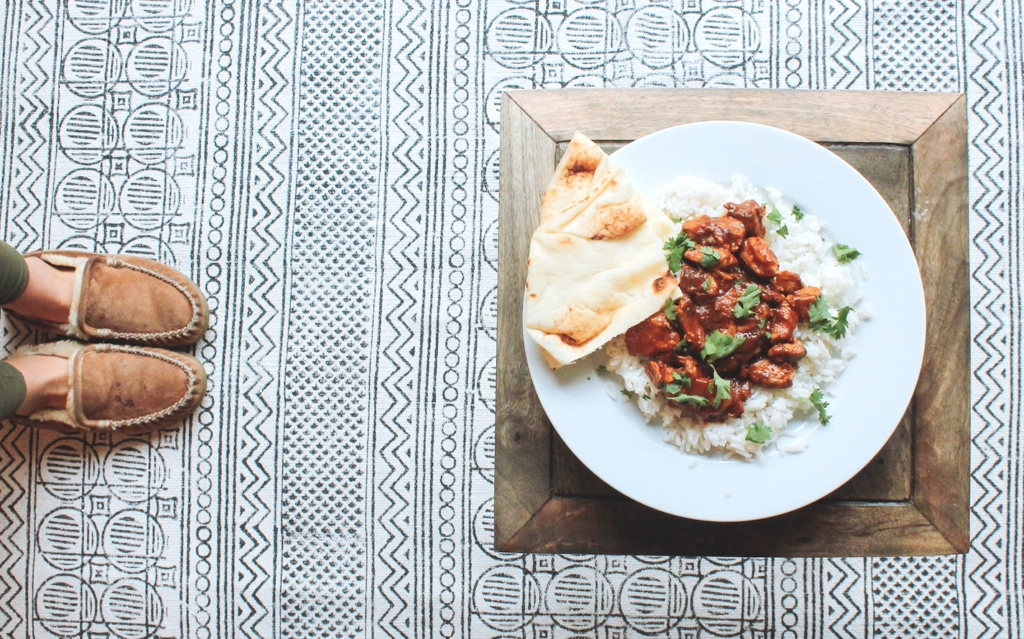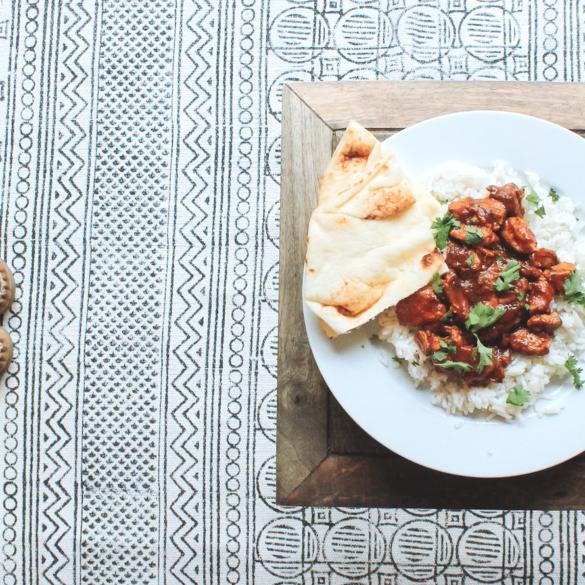 Ingredients
1/2 sweet onion, minced
4 cloves garlic, minced
1 knob fresh ginger grated (or 1/4 tsp ground)
2 tbsp garam masala
1 tsp paprika
1 tsp ground turmeric
1 tsp cayenne
1/2 tsp kosher salt
1 (one) 6oz can tomato paste
1-2 tsp red curry paste
1/2 cup water
2 pound chicken thighs, cubed
1 (one) 14 oz can coconut milk
1 tbsp salted butter
2 tbsp lemon juice
Cooked rice
Naan
Cilantro
Instructions
Set Ninja Foodi to saute on HI. Add garlic and onion, cook 1-2 mins. Add all spices (ginger-salt), tomato paste and curry paste; cook for one minute. Add the water, chicken, coconut milk and butter into the pot of the NF pressure cooker, stir well.
Pressure cook on high for 6 mins. When completed, do a natural release for 10 mins, then do a manual release and remove the lid. Add the 2 tbsps of lemon juice and stir. Taste and adjust salt as needed.
Spoon over white rice, top with fresh cilantro and serve with a side of Naan.