It's time to thaw a ButcherBox Pork Loin Roast, get the oven HOT and set aside 45 minutes for this yummy meal. When I make this Sweet & Sour Pork Loin Roast for just the two of us, you can also bet there are going to be plenty of leftovers for lunch the next day. WINNING!
I'm sure I'm not the only one who grew up with the classic dry pork chops for dinner. Most often, it was served with apple sauce and a side of green beans. Thank gawwwd for the pools of apple sauce because it was a tough bite without a dunk for a little moisture. We are in a different time. New age cooking and modern technologies allow us to be more precise and take the guessing out of the work.
The best gadget for new cooks
My number one suggested purchase for new cooks, under $100, a meat thermometer. This is popular question from Tim Ferriss' book, Tribe of Mentors. Each individual was asked ""What purchase of $100 or less has most positively impacted your life in the last six months (or in recent memory)?" My answer is the Thermowerks Thermopop! It's about the size of a pen with an instant digital read. I use it just about every night and even packed it in my toiletry bag when I'm on the road.
The inside scoop on a digital thermometer is important here because it turns out, pork doesn't have to be cooked until it's a dry puck. The proper temperature for fully cooked and safe-to-eat pork is 145°F. Every bite of pork will have a nice juicy center!
Shake up dinner time
For this pork, ditch the traditional apple sauce and green bean sides and smother it in sweet and sour sauce. The sauce uses a few pantry ingredients and comes together while the pork is roasting. It's time to shake things up a dinner time!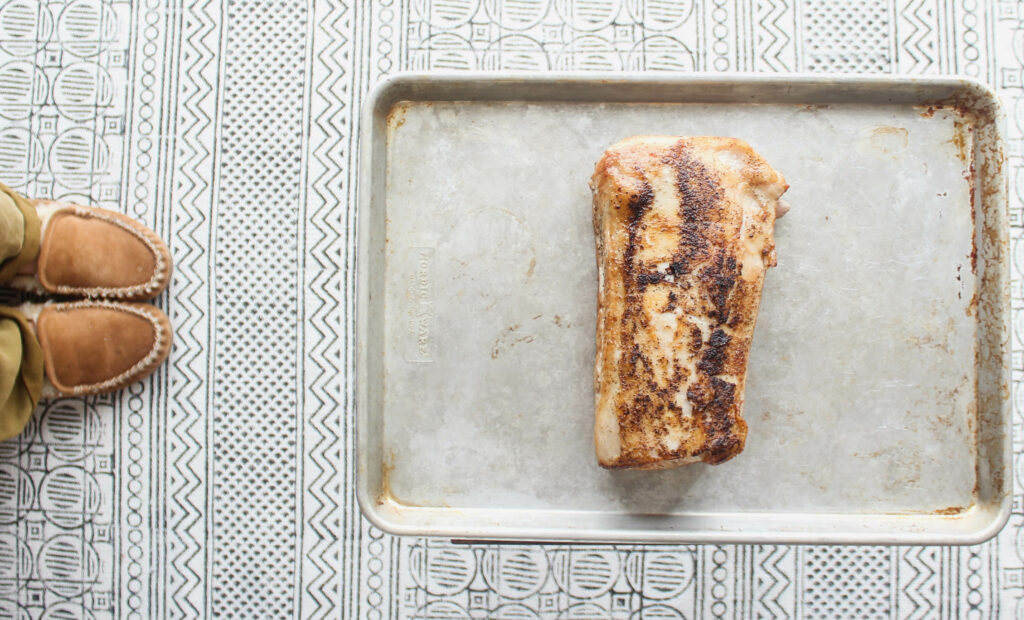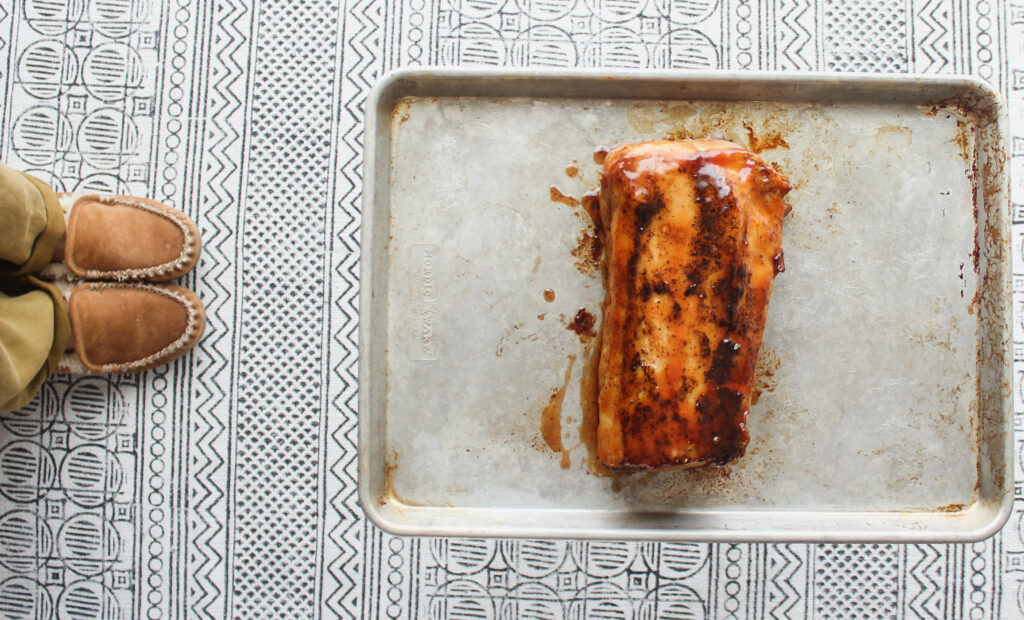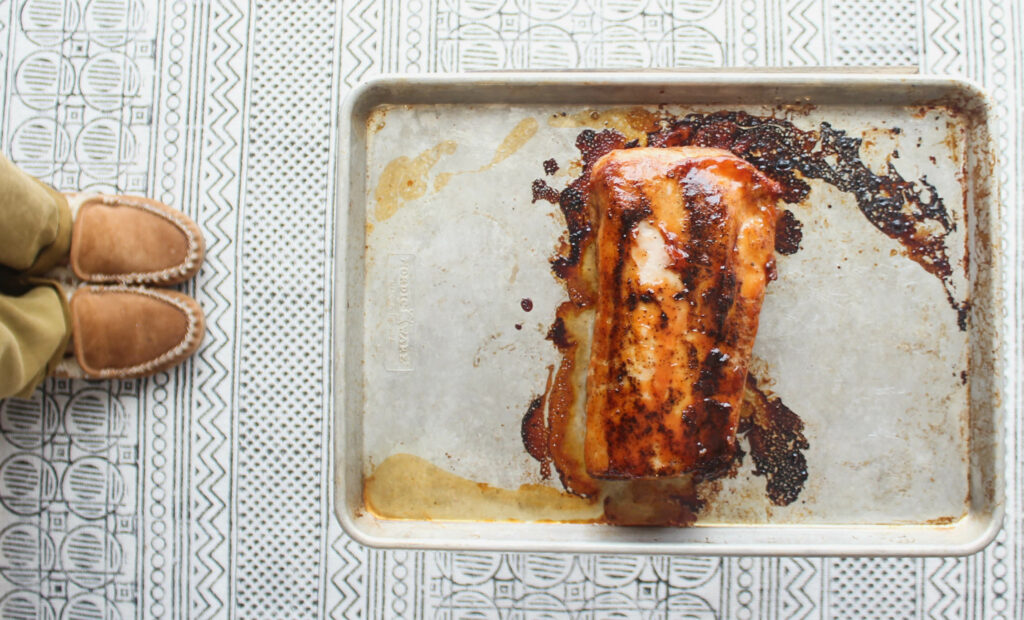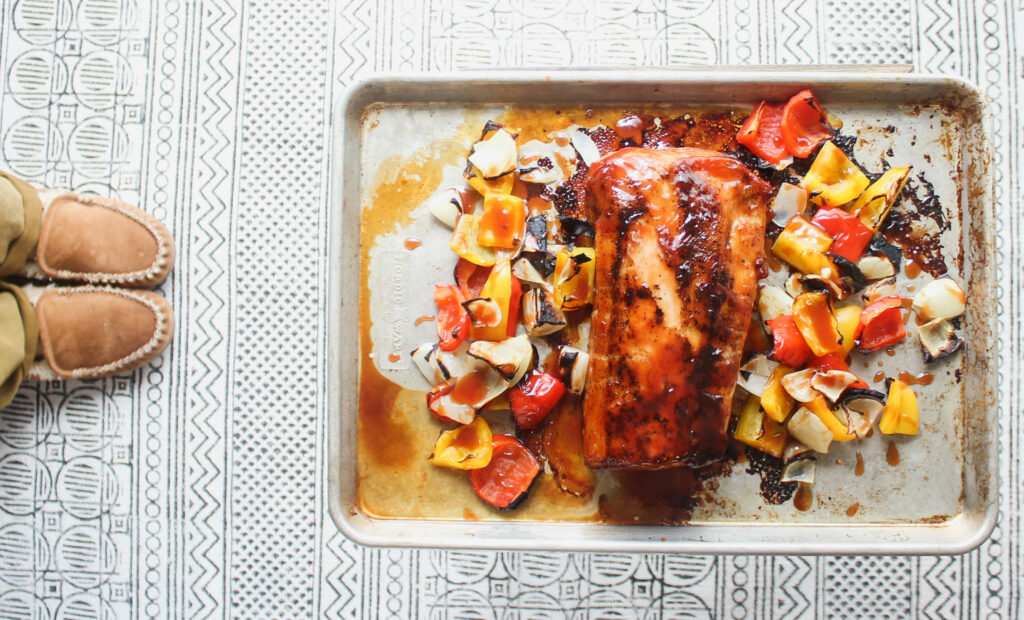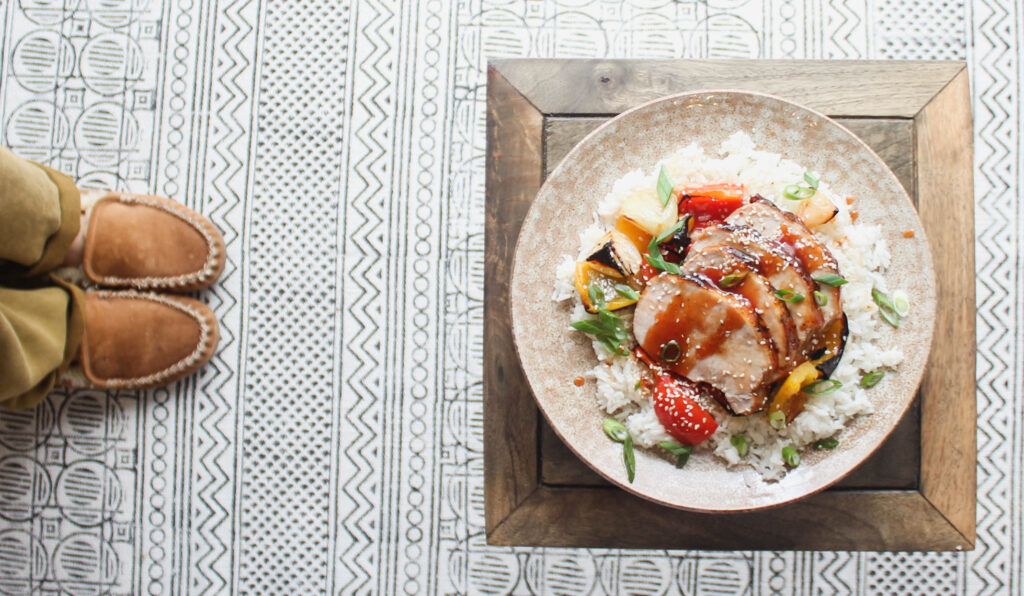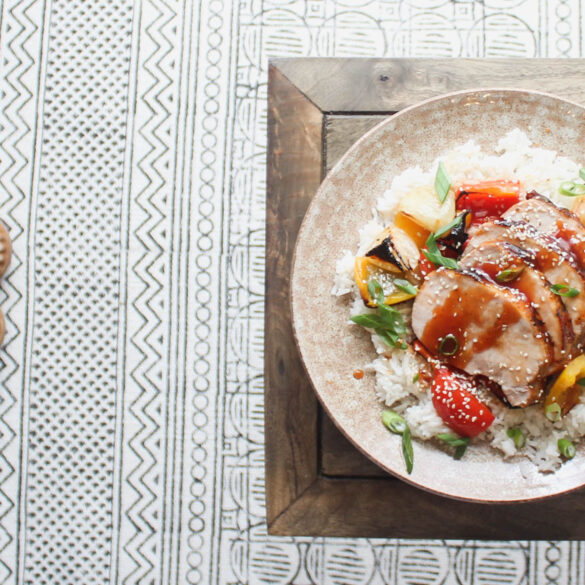 Ingredients
1 ButcherBox pork loin roast
1-2 teaspoons kosher salt
1-2 teaspoons ground black pepper
1 tbsp olive oil
½ cup honey
6 tablespoons rice vinegar
4 teaspoons soy sauce
3 tablespoons tomato paste
1 tablespoon cornstarch
2 tablespoons water
1 yellow onion, large chopped
1 red bell pepper, large chopped
1 yellow bell pepper, large chopped
2 scallions, sliced
Sesame seeds, for garnish
Instructions
Preheat the oven to 375.
Season the pork loin roast with salt and pepper.
Heat olive oil in a large cast iron skillet over medium-high heat. Sear the pork 2-3 minutes on all sides.
Transfer the pork to a baking sheet and place in the heated oven to roast for 15 minutes.
While the pork roasts, prepare the sweet and sour sauce. In a medium sauce pan on low heat, add honey, rice vinegar, soy sauce and tomato paste. Cook, stirring often for 5 minutes.
In a small bowl, whisk the cornstarch and water to make a slurry. To the sweet and sour sauce, slowly add the slurry, stirring continuously until well incorporated. Reduce heat to low and simmer for an additional 5 minutes and then remove from the heat.
After 15 minutes of the pork roasting, remove from the oven, baste with 1/2 the sweet and sour sauce. Add the onion and peppers to the baking sheet. Return to the oven for an additional 15 minutes, or until the internal temp of the pork loin roast reads 140°F.
turn the oven to high broil. Broil on high for 5 minutes.
Remove the sheet pan from the oven and rest the pork for 10 minutes before slicing.
Drizzle with remaining sweet and sour sauce. Serve over cooked white rice and garnish with scallions and sesame seeds.
Notes
The final internal temperature of the pork should be 145°F.