The start ingredient in this Cast Iron Cottage Pie is the ground beef. have you ever met an ingredient more versatile? Lasagna, tacos, burgers, cottage pie. The list goes on! It's a staple in our house and no better way to care for your family than with a homey comforting meal.
If you were one of the lucky ones, you hopped on the ButcherBox bandwagon during their more popular promotion; Free Ground Beef for LIFE. That's 2 pounds of ButcherBox ground beef in every box for the lifetime of your membership.
If you're already a member, kudos! You can still add ground beef to your monthly shipment by selecting the ground beef either as a box item or an add-on. I love having these high-quality meats within reach because when meal=time rings, I want to be able to have great options at my fingertips!
Time to put your most versatile ingredient, ground beef, to use in this Cast Iron Cottage Pie. It's all the comforts of home on a winter snowy day for me. It was a simple dish everyone in my family loved.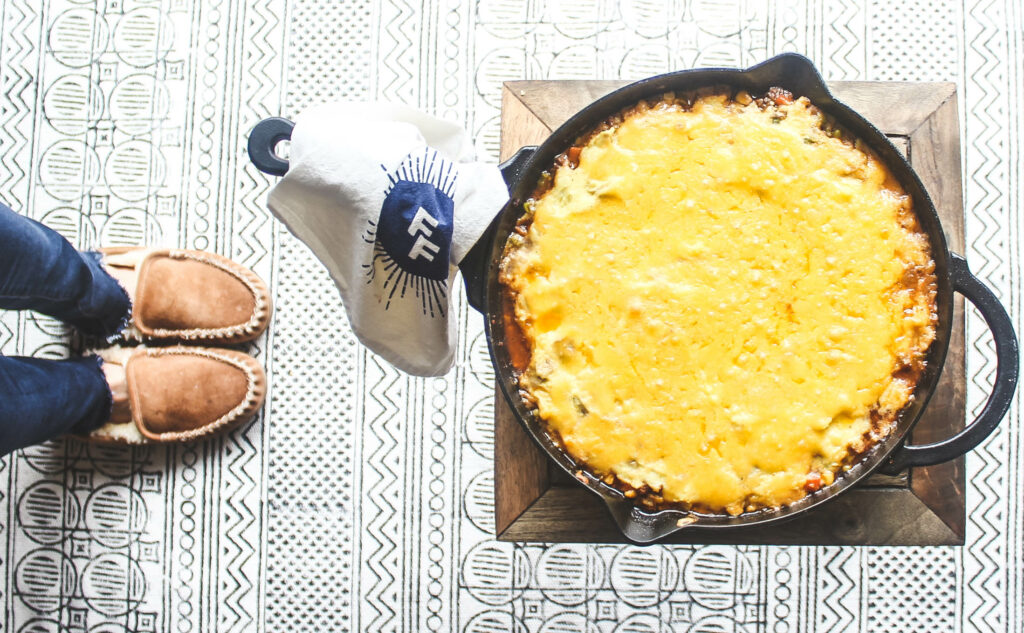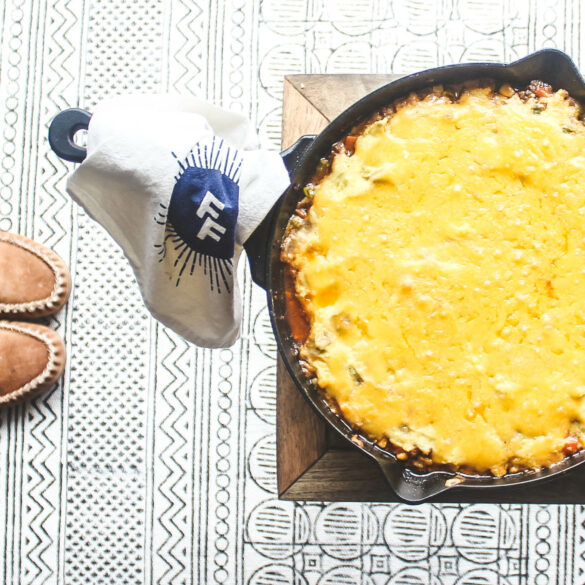 Ingredients
2 lbs baby Yukon potatoes, halved and quartered
1 tbsp olive oil
1/2 yellow onion, diced
1 stack celery, diced
1 tsp garlic powder
1 lb ButcherBox ground beef
1/2 cup frozen corn
1/2 cup frozen peas
1/2 cup frozen carrots
3 cups beef broth
1 tbsp Worcestershire sauce
2 tbsp tomato paste
2 tbsp salted butter
1/4 cup sour cream
1/2 cup parmesan cheese, grated
Salt + pepper to taste
8 oz sharp cheddar, shredded
Ketchup for serving
Instructions
Preheat the oven to 350. Fill a large pot with water and a generous pinch or two of salt, bring to a boil and add the potatoes. Cook until fork tender, 15-20 mins depending on size.
While the potatoes boil, heat a large cast iron skillet over med-high heat, add olive oil. When oil shimmers, add onion, celery and garlic powder. Cook 3-5 mins until soft, stirring often. Add the ground beef. Cook until no pink remains, breaking into small bits. Salt to taste. To the ground beef, add the frozen corn, peas and carrots, stir to combine. Add the broth, Worcestershire and tomato paste. Cook over med-low heat 5 mins to allow the flavors to marry. Salt to taste.
Once the potatoes have reached peak softness, drain the water. Move the potatoes to the bowl of a stand mixer. Begin mixing on low, add butter and mix until incorporated. Next, add the sour cream and grated Parmesan. Mix until light and fluffy and no clumps remain, about 3-4 minutes. Add salt and pepper to taste.
Scoop the mash potatoes to top the cottage pie meat mixture, spread to cover. Top the mash with the sharp cheddar and bake 15-20 mins until pie is set and cheese is melted. Broil on high 3 minutes to brown the cheese slightly. Remove the pie from the oven and allow to cool for 5-10 minutes. Scoop into large bowls and top with Ketchup, enjoy